Do you need some Black Friday email marketing inspiration?
It's never too early (or late) to start planning your Black Friday newsletter strategy. The period from Black Friday through Cyber Monday is often the busiest shopping time of the year, so you want to make sure your Black Friday email design and copy are ready to go.
In this article, we'll show you the best Black Friday emails and how you can use their strategies for your business.
Let's get started!
Why You Need Good Black Friday Email Ideas
Black Friday, or the Friday immediately after Thanksgiving in the United States, is the traditional kickoff to the holiday shopping season. Black Friday shopping can be the difference between profit and loss for eCommerce stores and traditional retailers alike. There's lots of competition among retailers, but there are also plenty of customers looking for deals and ready to buy.
According to a study by Campaign Monitor, over 100 million emails go out on Black Friday. Shoppers who purchase through email spend 183% more than customers who don't receive email marketing campaigns. Plus, open rates and clickthrough rates on abandoned cart emails increase during the Black Friday weekend. This means more recovered revenue and a better ROI on your email marketing.
By this point, customers are smart and know that Black Friday brings special promotions and limited time offers. That's why your Black Friday email campaigns need to be high-quality and attention-grabbing.
Let's look at some examples for inspiration!
13 Best Black Friday Email Examples
1. Everlane: Values-Based Marketing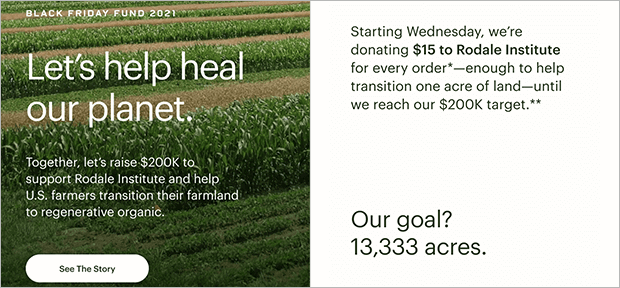 Our first pick is Everlane. With this campaign, the ethical fashion online store really leans into their brand identity as a socially responsible company. Instead of a regular Black Friday sale, the company promises to donate $15 to charity for every Black Friday order.
2. Pulp & Press: Time-Sensitive Abandoned Cart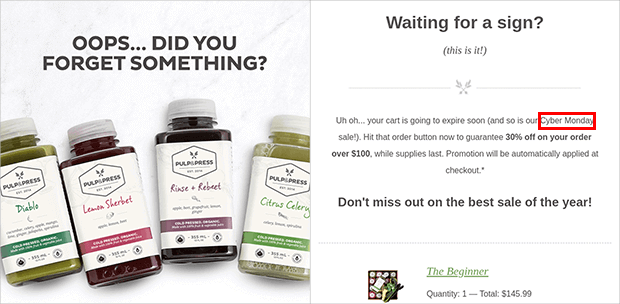 We love how Pulp & Press customizes their abandoned cart email for Cyber Monday. The headline and imagery fuel the customer's desire for the product. Then the body of the email reminds customers about the limited-time conditional discount of 30% off an order over $100. The automatically applied promotion removes friction from the online shopping process.
3. Fitbit: More is More

This email from Fitbit combines many of the best Black Friday marketing ideas without looking cluttered, thanks to minimalist design. Check out all the Black Friday promotions:
Free 2-day shipping on orders over $50
Save up to $100 on specific products that are shown in the image
Gift guide
Free sport band and discount with purchase
Shop now pay later
Money back guarantee
Limited warranty
It's okay to have more than one call to action (CTA) or promotion on Black Friday emails. Keep the design and copy simple and let your products and deals speak for themselves.
4. Bottle Rocket Hot Sauce: Keep It Simple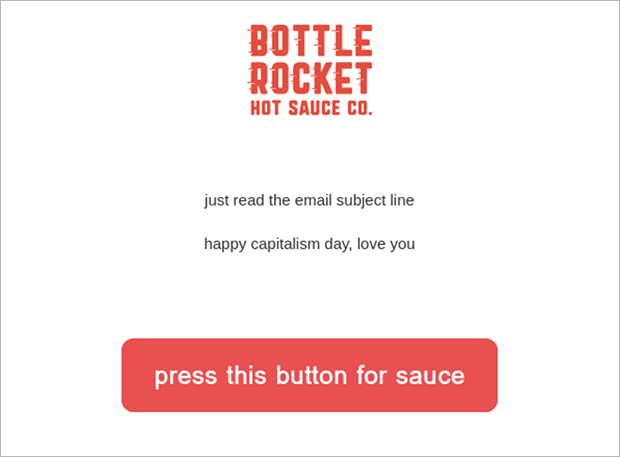 Bottle Rocket Hot Sauce takes a risk with its super minimalist email that contains little more than a subject line and an ironic nod toward consumerism. There's always a risk of being too weird on Black Friday and confusing or alienating customers. But if this wry humor is in line with the company's existing brand messaging, their loyal customers will probably appreciate it.
5. OffCourt: Not Another Black Friday Email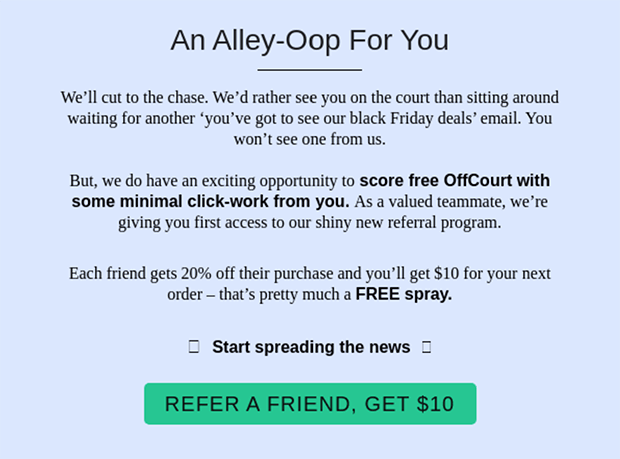 OffCourt also uses an unconventional Black Friday email strategy: promising NOT to send a traditional Black Friday email. Instead of discounts, they promote their referral program, which can pay off year-round. This is a great way to avoid the rush of Black Friday while still getting your brand on customers' radar for the holiday season.
6. MacPaw: The Gift for Someone Who Has Everything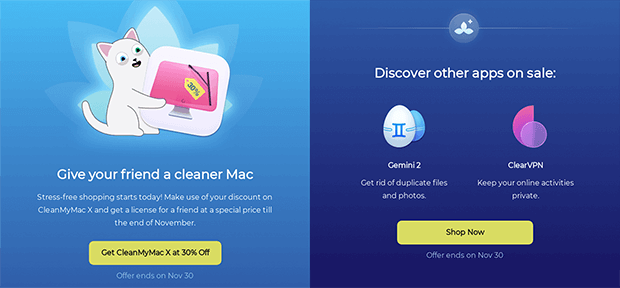 MacPaw sells a suite of apps for Mac users, who are famously loyal to the Apple brand. This email appeals to the holiday spirit by suggesting users gift the software to other Mac enthusiasts. The email also mentions other related apps on sale.
7. Teachable: Straight to New Year's Resolutions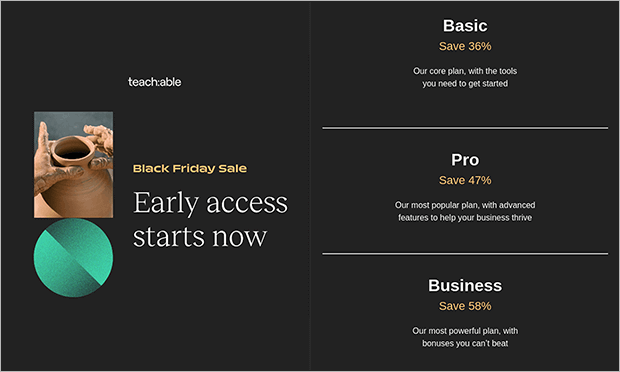 Teachable's business-building course software is available year-round, but their Black Friday deal is a way for customers to get a jump start on new year goals. The email features tiered discounts off everything they sell if you get an annual plan, and brief explanations of each plan tier.
8. Catalina Crunch: Early Access SMS Marketing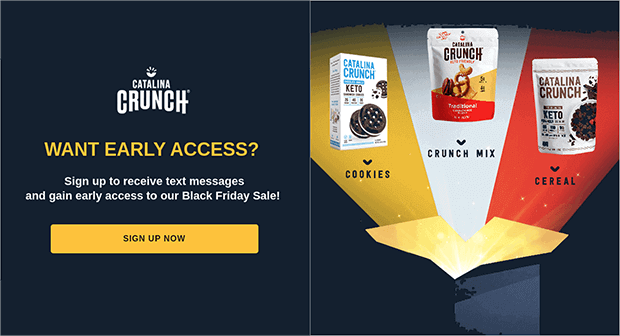 We're big fans of Catalina Crunch's simple early bird campaign. With just a single invitation to sign up for text messages, the email helps the company build up multiple touchpoints for their Black Friday Cyber Monday (BFCM) campaigns. This can increase conversions across all channels.
9. Wildist: Sales Email Masterpiece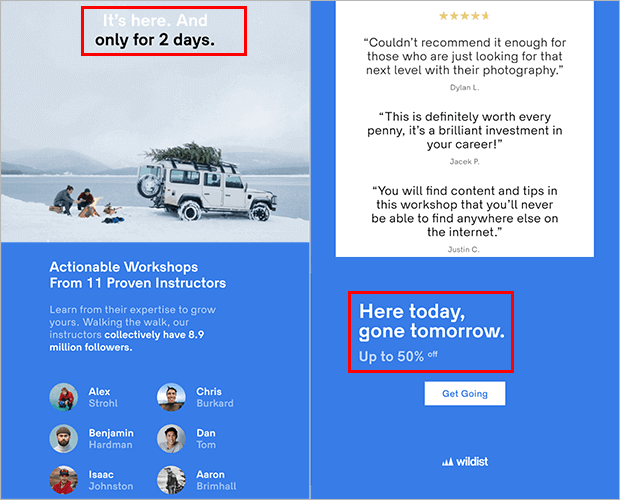 Wildist's Black Friday email is practically a mini landing page sent directly to eager customers. The subject line and headline immediately let customers know that the sale is time-limited. It clearly states what the special offers are, and even includes some compelling testimonials before a final reminder that the sale will be gone all too soon.
10. June Oven: Eye-Catching Email Design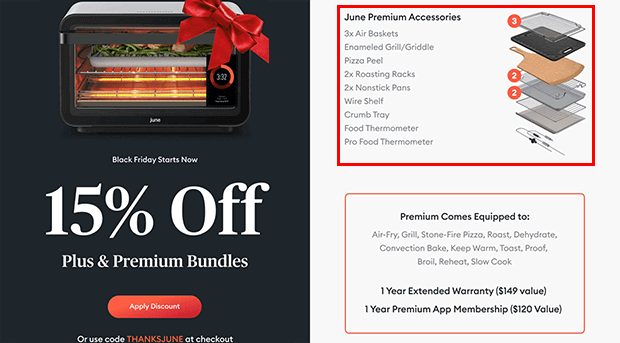 The catchy subject line, "Smell that? June's cooking up 15% off for Black Friday," manages to be clever and clear at the same time. The body of the email starts with imagery of the product literally gift wrapped for the customer. June Oven promotes their bundle discount and clearly shows the accessories included so that customers can picture themselves owning and using the product.
11. Tinker Watches: Product Launch Teaser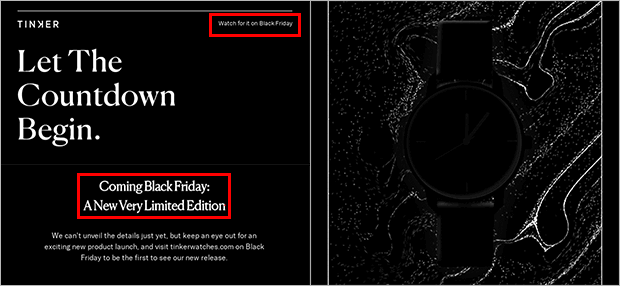 Tinker Watches builds hype for Black Friday with a new product launch. It's also a very limited edition product, so the urgency continues to build. The email has multiple reminders to check out the website on Black Friday, but is otherwise incredibly simple with sparse copy and a shadowy image teasing the new product.
12. Hush Puppies: Gift Guide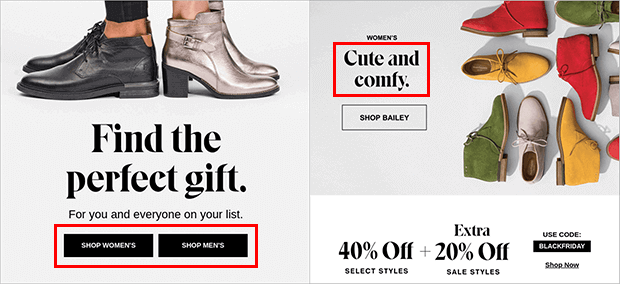 Hush Puppies shows off their bestselling products by sharing a gift guide. Customers can find products based on who they're buying for and the recipient's style preferences. There's also a discount code as an extra incentive.
13. Bose: Game of Chance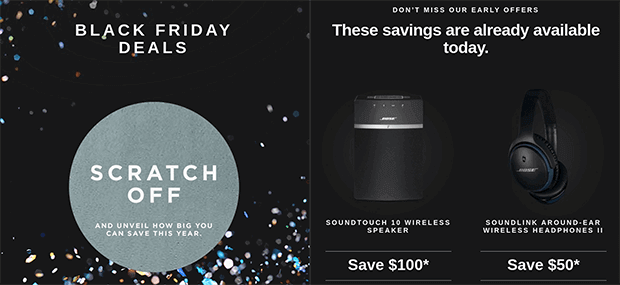 Bose adds an element of fun to their Black Friday email by including a scratch and win discount feature. Beyond a fun interactive element, the scratch and win takes advantage of the Zeigarnik effect. This refers to people's tendency to continue through a series of actions once they take the first step. If a customer scratches off their discount, they're more likely to use that discount. Bose also presents some early offers that are available now as a way to create more urgency.
14. Casper: Forget Black Friday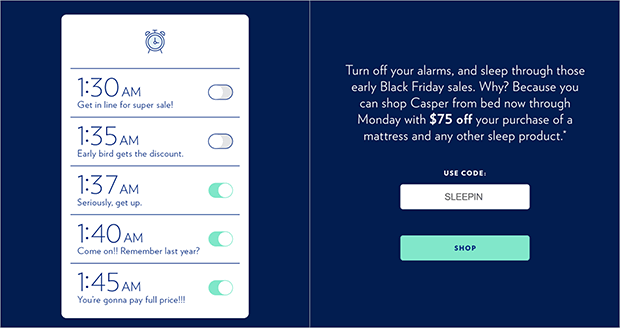 From the subject line, "Snooze through the sales…" to the email copy mentioning shopping from bed, Casper makes it easy to imagine sleeping on one of their beds. The phone alarm mockup reminds customers about sales they might have missed last year, then assures them that Casper's sale runs through Monday.
Hopefully, you found some inspiration from these Black Friday email examples. Now let's look at some general copy and design tips to help you make your own Black Friday email campaigns.
Black Friday Email Copy Tips
If you want to write great Black Friday emails, it's better to be clear than clever or cute. Customer inboxes are packed, so don't confuse people with inside jokes or references that take even an extra second to understand.
Your Black Friday sales email subject lines and preview text are key to getting your email open, so spend extra time crafting those and consider split testing to optimize your messaging.
You also don't want to be too mysterious or vague with your marketing messages. Some teasing leading up to BFCM might be okay, but the emails sent the day of Black Friday should clearly state what your products and discounts are.
Because Black Friday is a specific date, it's a good opportunity to use a sense of urgency and FOMO (fear of missing out) in your marketing. Just make sure your copy is accurate and trustworthy. Don't say that these are the best deals of the year if you're going to offer even heavier discounts in a few weeks after the holidays.
Some phrases you can use include:
Time is running out
Limited quantities
The only time of year
Best deals all year
Sale ends soon
Only X days left
Final hours
Animated countdown timers can emphasize the dwindling time to take advantage of your Black Friday offers.
Black Friday Email Design Templates
Just like with your copy, keep your email design relatively simple. It's fine to include more than one CTA button in your holiday emails. Remember to feature the products as well as the discount or deal.
For example, this marketing email looks nice, but it's practically impossible to tell what the brand sells. Of course, if someone signed up for the email list, they probably know what the product is. But with so many emails to look through, make it easy for your customers to remember who you are and what you sell.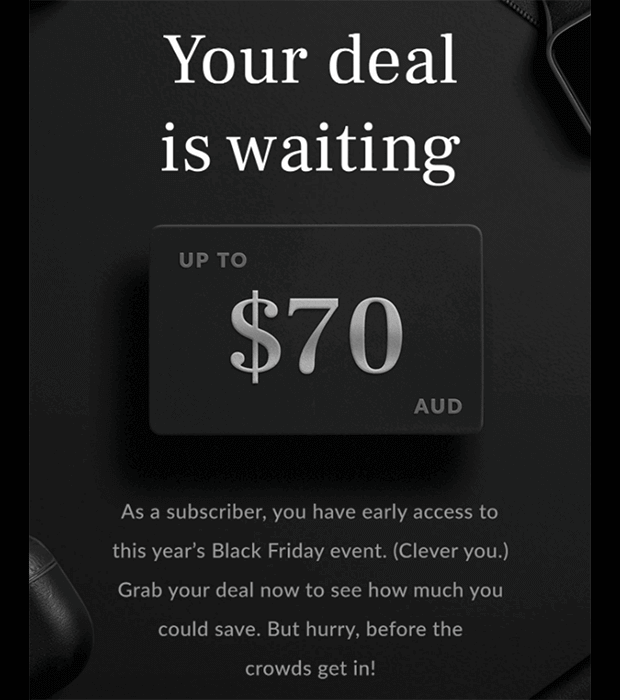 Make sure your fonts and call-to-action buttons are high-contrast and easy to read. Use high-quality images while keeping the file size down to minimize loading time.
To inspire your inner designer, here are some Black Friday email templates from Constant Contact: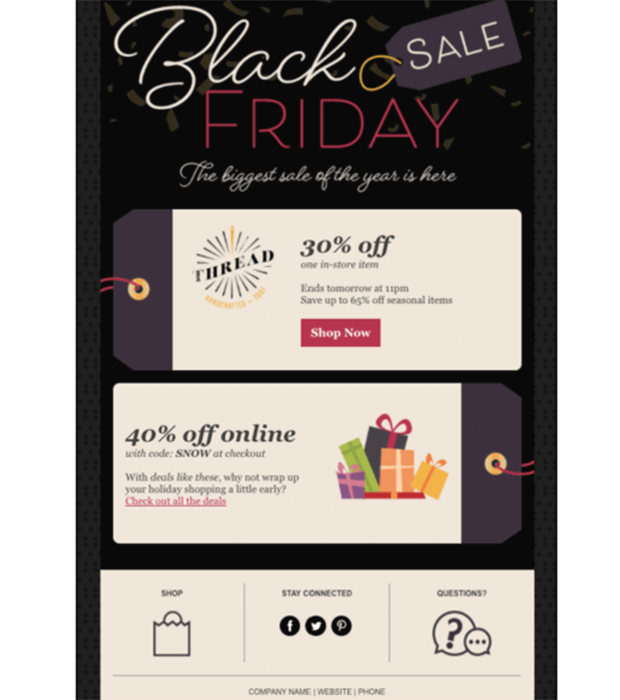 We like the visual pun on "tag sale" in this template. There's room to share lots of promotions and the layout keeps them all organized and easy to click on.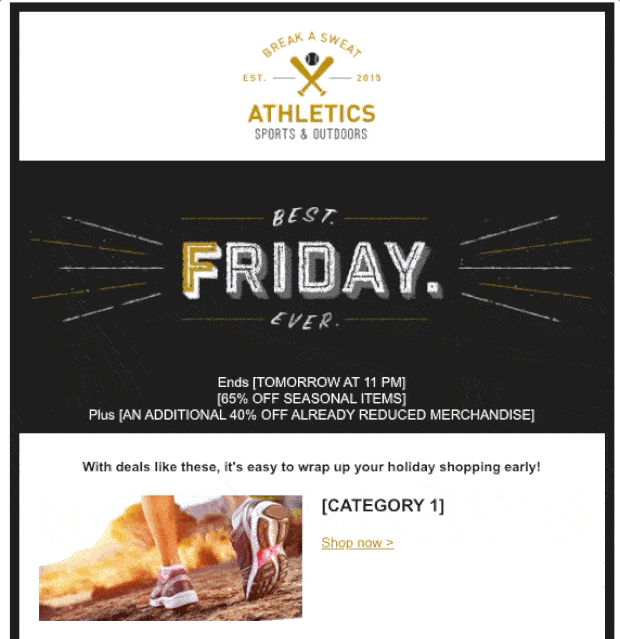 This animated template catches the reader's attention with a GIF headline. The important information about the promotion is clearly marked right under the headline so customers won't miss it.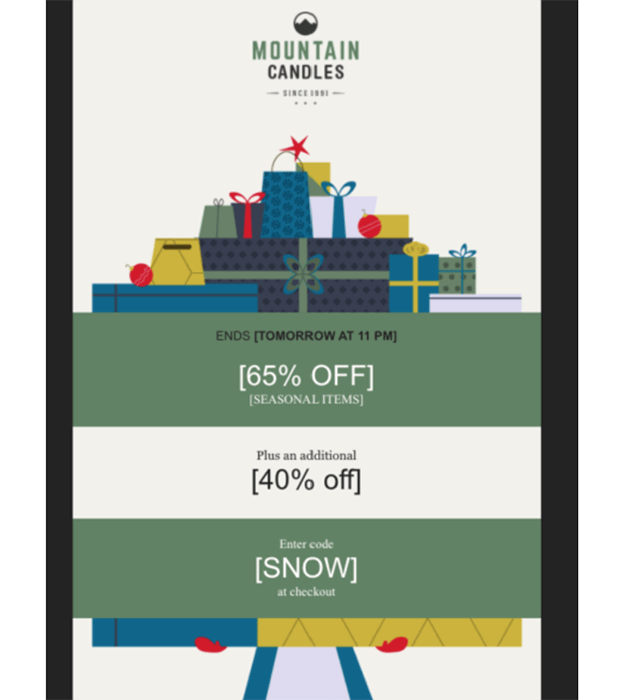 The seasonal colors on this template are flexible enough to use with all kinds of branding. All the key details of the sale are spelled out in large text: sale duration, discount amount, and promo code.
You can also set up Black Friday specific optin campaigns on your website using OptinMonster. From popups, to slide-ins, to coupon wheels, it's easy to create a suite of coordinated Black Friday optins to build your list and sell more products.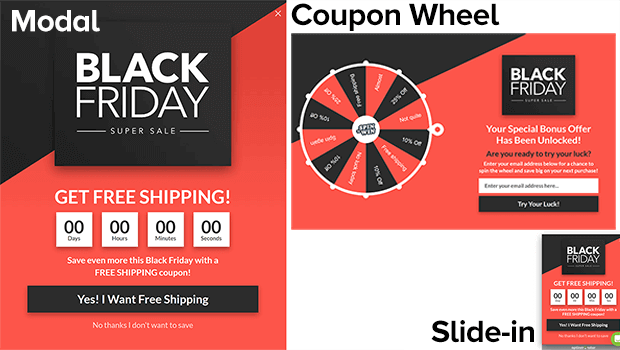 Frequently Asked Questions
What's the Best Time to Send Black Friday Email?
If you're sending on Black Friday itself, try to send your email in the early morning so it's there when shoppers first check their email. You may also want to send another email before the promotion ends to remind any last-minute customers that the deal is ending.
You should also be promoting and teasing your Black Friday deals well in advance. People often need to see multiple reminders before they decide to buy. You can start sending these as early as the end of October.
If you're holding hourly sales throughout the day on Black Friday, send out a list of all sales in the morning so customers can plan ahead. Then send another reminder email right before each sale starts.
When Should I Email Cyber Monday Deals?
The important thing to remember about sending Cyber Monday emails is that many people are back to work on this day, unlike Black Friday or Small Business Saturday. Keep their workday schedule in mind as you schedule your Cyber Monday emails.
The peak for Cyber Monday emails is often between 12-1pm EST. Workers in the eastern half of the United States are breaking for lunch, while customers on the other side of the country may be logging into their email for the first time hat day.
Now that many consumers use smartphones, though, they might be checking their emails as soon as they get out of bed in the morning. (Or even before!)
The best time to email Cyber Monday sales depends on your target audience. Try A/B testing different send times and see what the data say.
How Many Emails Can I Send on Black Friday?
Customers generally expect to receive lots of emails on Black Friday. Even so, you don't want to overwhelm or annoy them with too many emails.
We recommend sending at least one email before Black Friday. This can be a teaser email, early access invitation, or save the date letting customers know what to expect.
On Black Friday itself, you can send 3-5 emails. The first one announces the start of the promotion. Then you can send a few to remind them about the limited availability of your deals. Finally, send a last chance email at the end of the day.
If you're offering daily or hourly deals, send an email for each new deal. Ideally, you can tease the next sale at the end of each deal email too.
Never assume that any email subscriber saw, or remembers, your last email. You always want to include important details about the products and discounts. But don't repeat the exact same information in every email newsletter either. You can highlight different products or features to appeal to as wide an audience as possible.
We hope you found these Black Friday email ideas helpful as you plan your marketing campaigns. Check out our list of the best email marketing automation tools to help you pull off your best Black Friday email marketing strategy ever.
If you like this article, please follow us on Facebook and Twitter for more free articles.