For customers, holidays mean enjoying extra days off, spending time with family, and buying presents at bargain prices. The holiday season for businesses is also an amazing chance to strengthen relations with customers and increase sales, especially when their festive emails are done right.
In this post, you'll find the best Thanksgiving email ideas and subject line examples to make your campaign a success. 
Thanksgiving email design ideas
A week or weeks before Thanksgiving, your audience's inboxes will be filled with competitors' emails, whose offers and messages may be as good as yours. A good email campaign will be of great help. So, how to outpace your competitors and capture your audience's attention?
1. Appeal to emotions
Did you know that 95% of all purchases are driven by emotions? When it comes to holidays, this number may even increase! 
Make sure the Thanksgiving email design reminds customers about the beauty of this day and the emotions they experience when gathering with their loved ones.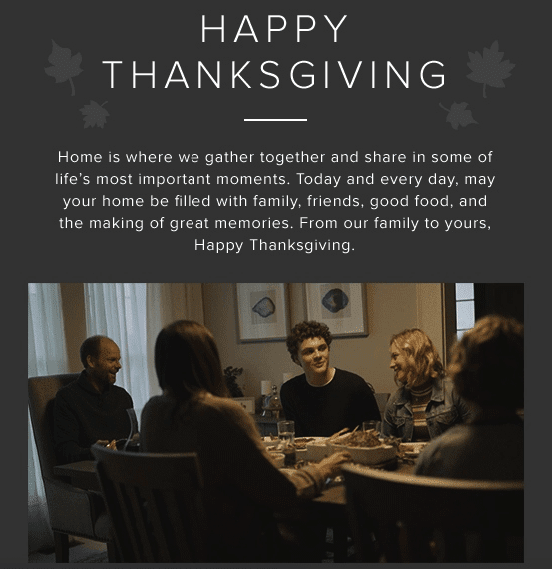 (Source: Email from American Signature Furniture)
Besides a photo of a happy family, American Signature Furniture also added a note with warm wishes.
2. Make your emails festive
It can be anything. You can decorate the entire Thanksgiving email or just headers and footers with some design elements. But it's really important to keep the holiday mood and spread festive vibes through your emails.

(Source: Email from Quorum)
Quorum only changed its logo, while the rest of its email was pretty usual, with no other decorations, but it looks great and works well for the holiday season.
3. Add some interactivity to your Thanksgiving emails
A child that lives in each of us craves new experiences and loves games, especially on holidays. So why not give subscribers this opportunity? Static design is still good enough, but why not give it a try for videos, interactive elements, or even gamification in emails?
For example, you can set an instant reward, like free shipping or a discount once a subscriber completes a game.
There are two ways to add gamification to Thanksgiving emails fast:
Pick this ready-to-use template
Alternative:
As an alternative to interactivity, you may add animated GIFs. In order to prevent photosensitive epilepsy seizures among your recipients, please avoid GIFs with 3 or more flashes per second. 
And it is also important to put only one GIF per screen (scroll). Two moving elements can cause the aforementioned seizures. Please refer to this blog post for more recommendations on GIFs.
4. Combine two holidays in one email
Since there is only one day between Thanksgiving and Black Friday, it will be a good idea to combine these two events in one email. Express gratitude on Turkey Day and announce a festive autumn holiday time of discounts. Thanksgiving season presents and Black Friday deals in one email? With such holiday messages, your loyal subscribers will go nuts.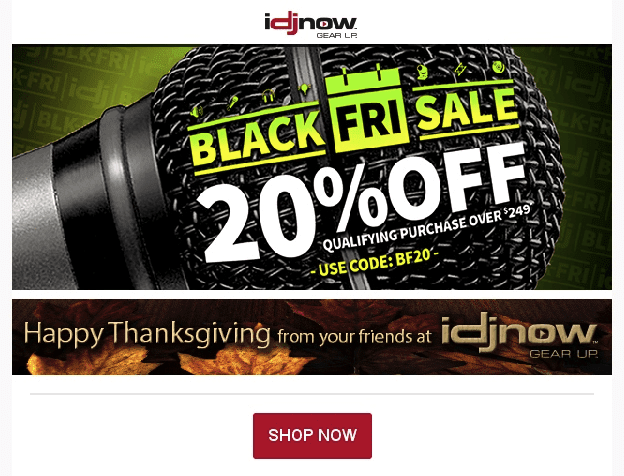 (Source: Email from IDJnow)
5. Send emails in a hand-written style
This is a somewhat unusual email format. But a good old handwritten Thanksgiving message (text-based email that looks like a handwritten email) will make each of your subscribers feel special.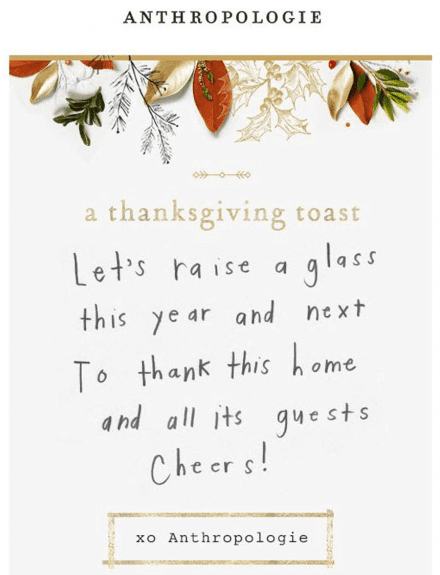 (Source: Email from Anthropologie)
The best Thanksgiving email templates and examples 
Looking for more Thanksgiving email inspiration? Check the emails below — those are the ones we loved the most in our inboxes. 
1. Show how much you appreciate your clients — Stripo
A simple message, a festive tone of voice, a banner with pumpkin pie or roast turkey, and a discount is a perfect Thanksgiving email combination for small businesses. Send best wishes and let your loyal clients' Thanksgiving begin with a heartwarming email from you.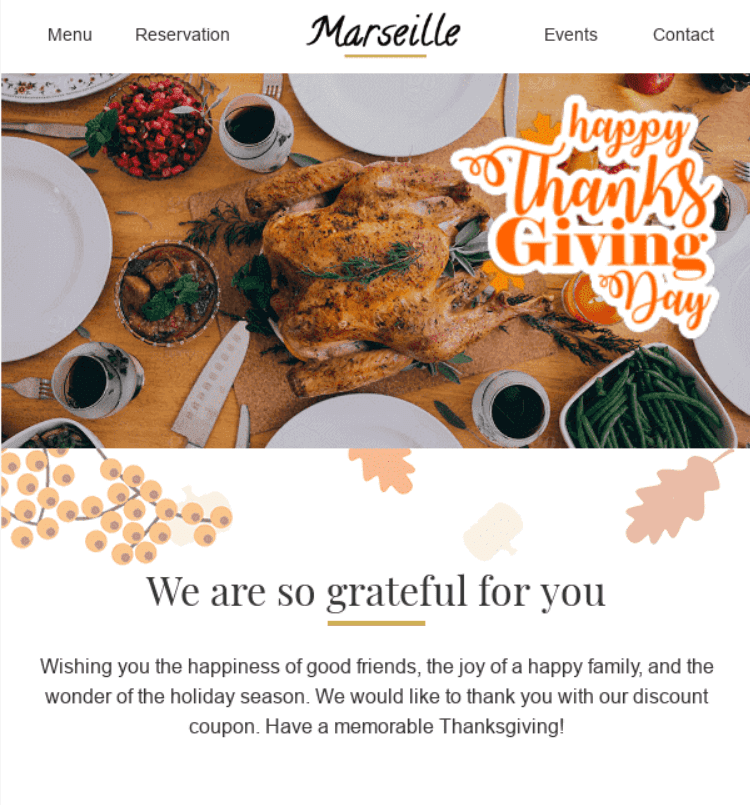 (Source: Stripo template)
2. Send Thanksgiving email to a segmented audience — Wolferman's
It is necessary to take into account the interests, location, age, and occupation of your audience. It is also worth checking out your consumers' behavior, like their previous purchases and the items they left in their carts. By doing this, you are more likely to please your target audience with your offer.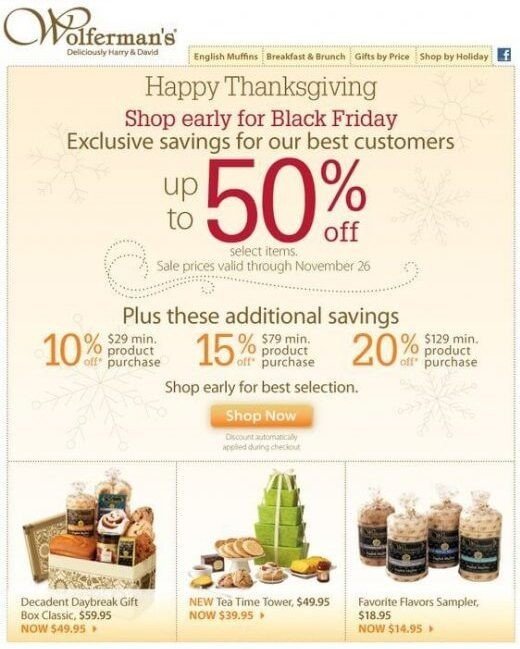 (Source: Email from Wolferman's)
3. Announce promotions and sales — Whole Foods Market
This is a classic holiday email. You indicate the opportunity to save money and then talk about your discounts, early bird shopping deals, free delivery, and other goodies. If you are an owner of either a big supermarket or a small grocery store, take your chance to grab subscribers' attention by sending a reminder with the goods that everybody needs for a festive table.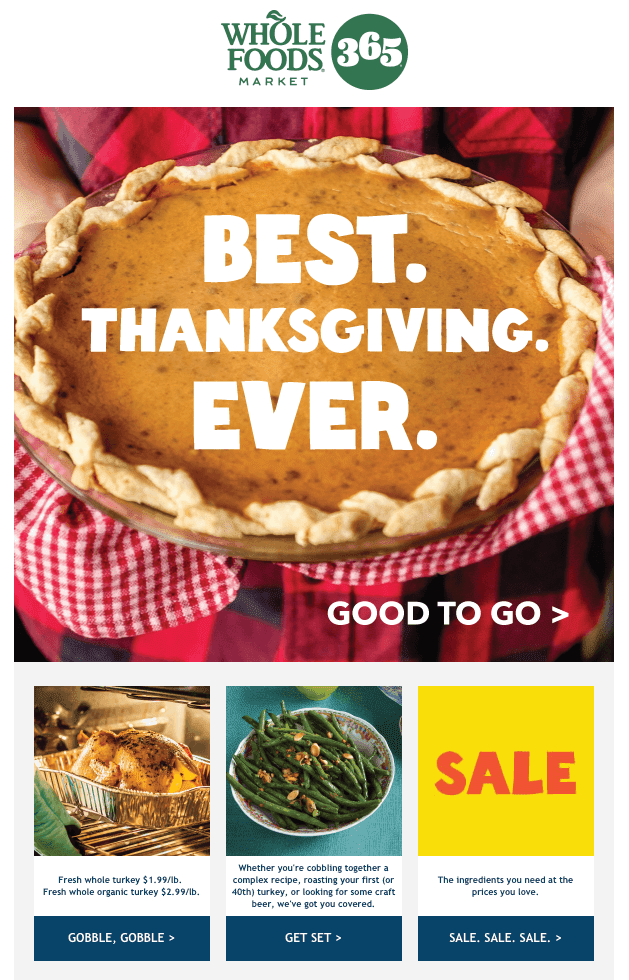 (Source: Email from Whole Foods Market)
4. Be a friendly CEO — Sakara Life
You can include a photo or a signature of your CEO and add some warm wishes for your clients and their families. As a follow-up to this email message you can send a promo email with holiday brand offers to prove your friendship is firm :). Mix design ideas, experiment with visuals, and find a perfect formula for your company.
(Source: Email from Sakara Life)
5. Blend your offers into the client's Thanksgiving dinner — Stripo
If your products are a perfect match to the holiday spirit, demonstrate them with useful how-to's. For example, a brand of unusual plates can:
show how to serve a festive table with their plates;

offer free shipping or other discounts on these plates;

add recipes of the dishes that will look yummy on these plates.
Here you go — just one email and dozens of beautiful Thanksgiving dinner tables based on it.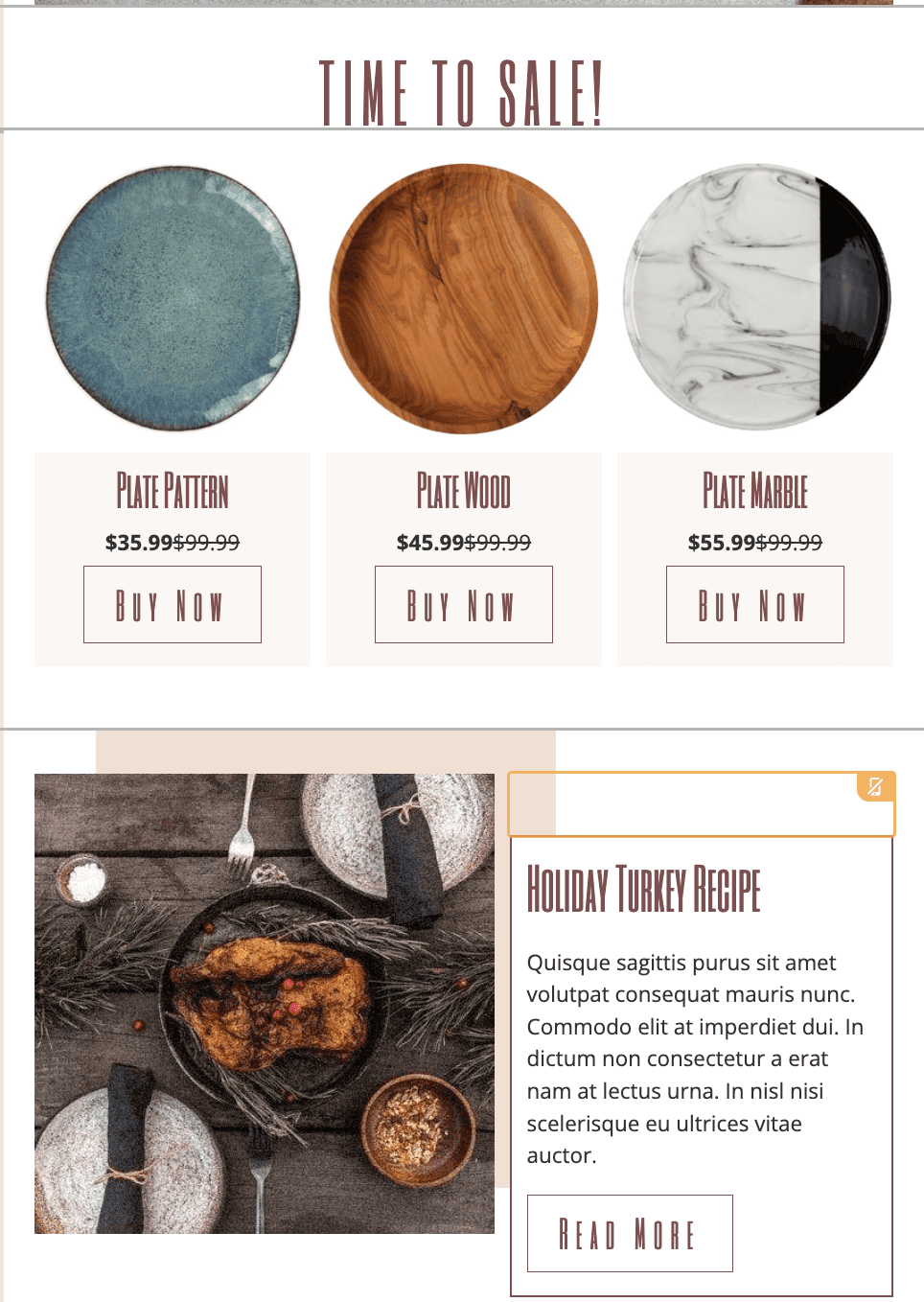 (Source: Stripo template)
Thanksgiving subject line examples for your inspiration
Your main task is to come up with a catchy phrase that resonates with your brand image. Remember that the word "Thanksgiving" should be included in your subject line to grab your customers' attention.
Here are some Thanksgiving subject line examples to spark your creativity:
Thanksgiving Surprise – 20% Off Your Purchase! — Athleta.

Thanksgiving to go will keep the feasting going this year — Restaurant Business.

10 spots for an unforgettable Thanksgiving — Forbes Travel Guide.

Easy Menu Ideas for Thanksgiving — D'Artagnan.

Happy Thanksgiving. Here's to good food and great sleep — Brooklinen.

Need to escape this Thanksgiving? — MoneyWise Digest.

Thanksgiving Pre-Order Starts Today — D'Artagnan.

Your Thanksgiving Airport Savings Guide — Hipmunk.

Still Haven't Booked Your Thanksgiving Travel? — Hipmunk.

3 Weeks to Thanksgiving: Pre-Order Today — D'Artagnan.

2 Weeks Until Thanksgiving. Are You Ready? — D'Artagnan.

FREE Shipping for Thanksgiving (Ends Sunday) — D'Artagnan.

Happy Thanksgiving from D'Artagnan! — D'Artagnan.

Happy Thanksgiving (happy 60% off EVERYTHING + extra 15% off) — Gap Factory.

Thanksgiving treat! NO EXCLUSIONS + last call for $10 sweatshirts & extras — Gap.

Happy Thanksgiving! Enjoy this holiday coupon — Ikea USA.

7 Thanksgiving Instagram Photos from Members of Congress — Quorum.

Celebrate Thanksgiving in paradise — Forbes Travel Guide.

A few tips for family holiday gatherings — Danielle LaPorte.

Test Kitchen-approved Thanksgiving tools — Food52.

Pre-Thanksgiving Sale – Save 20% Off Red Ticket Styles — Nygard.

We got your Thanksgiving Fixings! — The Bargain! Shop.

Get in the Mood For Fall With These 8 Recipes! — Gourmet Food Store.

Turkey overload? Get back on track with $50 in food savings! — Jenny Craig Official Site.

What goes best with Thanksgiving leftovers? Sales! — Shop It To Me.

Post-Thanksgiving Food Coma? Recover On The Couch With All The Bway Scoop! — BroadwayBox.

Picks from our Editors for Thanksgiving — The New Yorker.

We are thankful for you! — Camping World.

Happy Thanksgiving + Black Friday Starts Now! — Afloral.

Giving thanks for family and friends, like you — America's Test Kitchen.

It's On! Thanksgiving Designer Exclusive Waiting Inside ➤➤ — GlassesUSA.

Thanksgiving outfits? You're in for a feast — Johnnie Boden.

12 Creative and Tasty Ways to Use Wonton and Egg Roll Wrappers — Parade.

Fall Outdoor Displays + Easy DIY Decorating Craft — Better Homes & Gardens.
Thanksgiving newsletter templates for your email campaign
We hope that our selection of Thanksgiving newsletter ideas will help you build powerful emails. For your convenience, we've prepared a variety of beautiful Thanksgiving newsletter templates.
Thanksgiving invitation email template
Take a look at this free HTML newsletter template with a heartwarming design and an invitation for a Thanksgiving dinner. This newsletter template is created for the hospitality industry but can be used for Thanksgiving emails of any kind.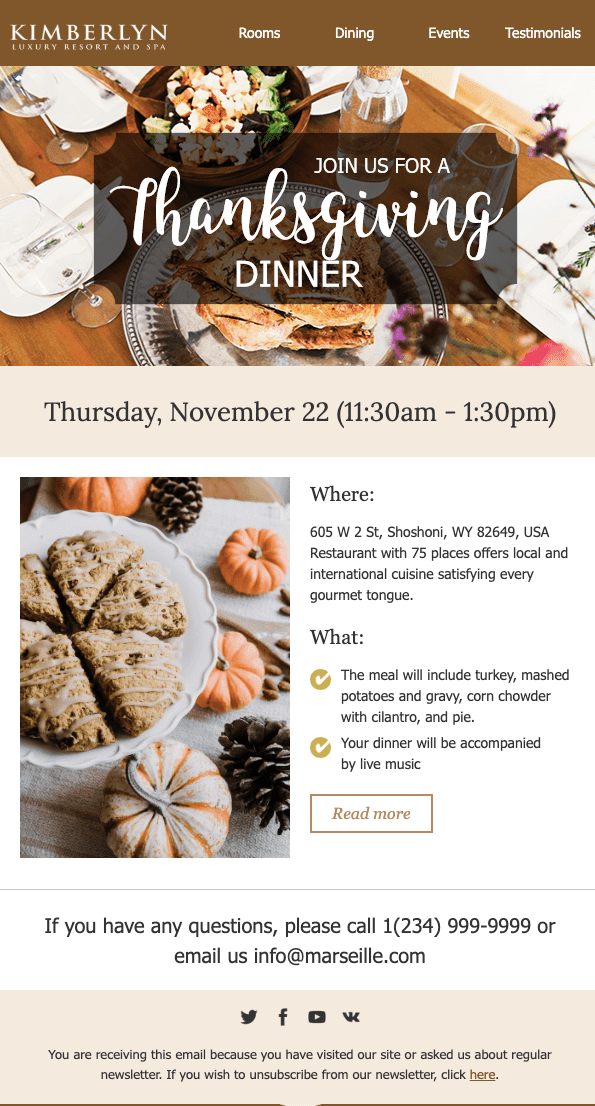 Save time on email production with Stripo's email templates for Thanksgiving
Thanksgiving email template with a promo code
Everyone loves holiday discounts, so Thanksgiving is a perfect day to treat your subscribers to some special offers. This template is fully-customizable and you can modify it to suit your needs without any HTML knowledge.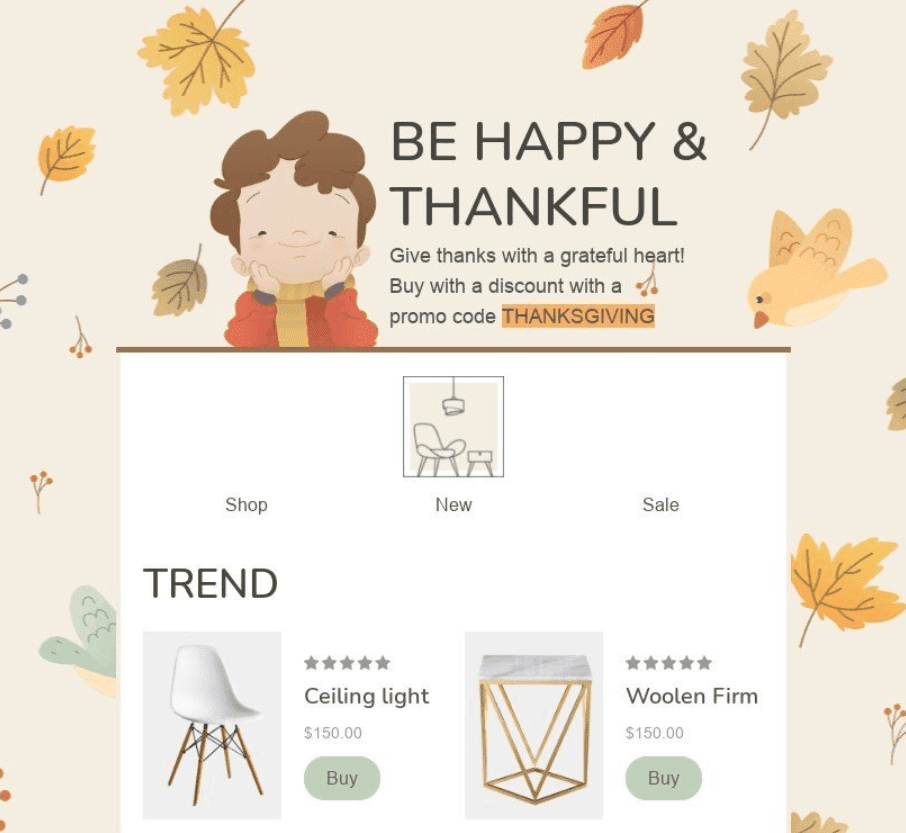 Build emails faster with our holiday templates
Thanksgiving email template with a handwritten caption
This amiable Thanksgiving email takes the form of an artful digital greeting card. Concise and to the point, the design catches attention with a handwritten "Thanksgiving Day" caption.
Then, it streamlines users to copy your promo code and navigate right to your website. Moreover, this design has a separate Black Friday banner that informs recipients about the upcoming sale.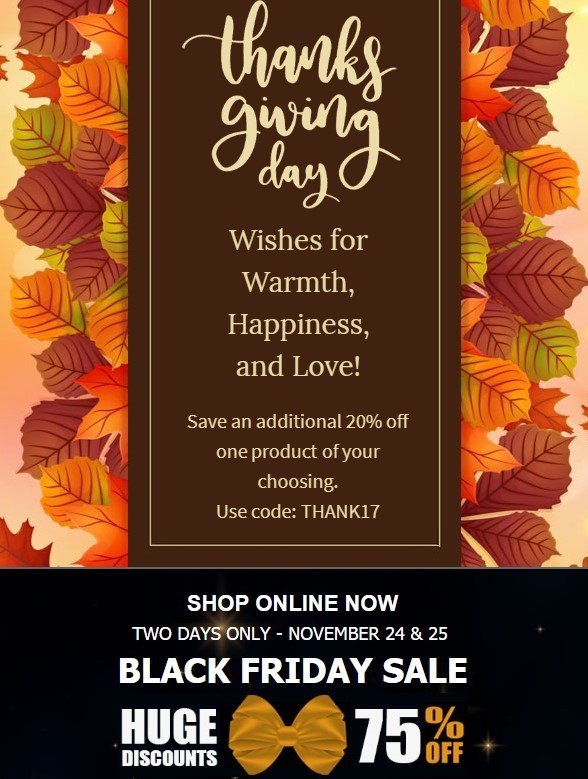 Save time on Thanksgiving emails
Thanksgiving email template to express gratitude
An efficient Thanksgiving email marketing strategy should be based on delighting your customers. Show your gratitude with a discount voucher to make their holiday bright, just like they light up your days. This is a simple and good example of wishing a happy Turkey Day, bringing joy, and increasing your sales.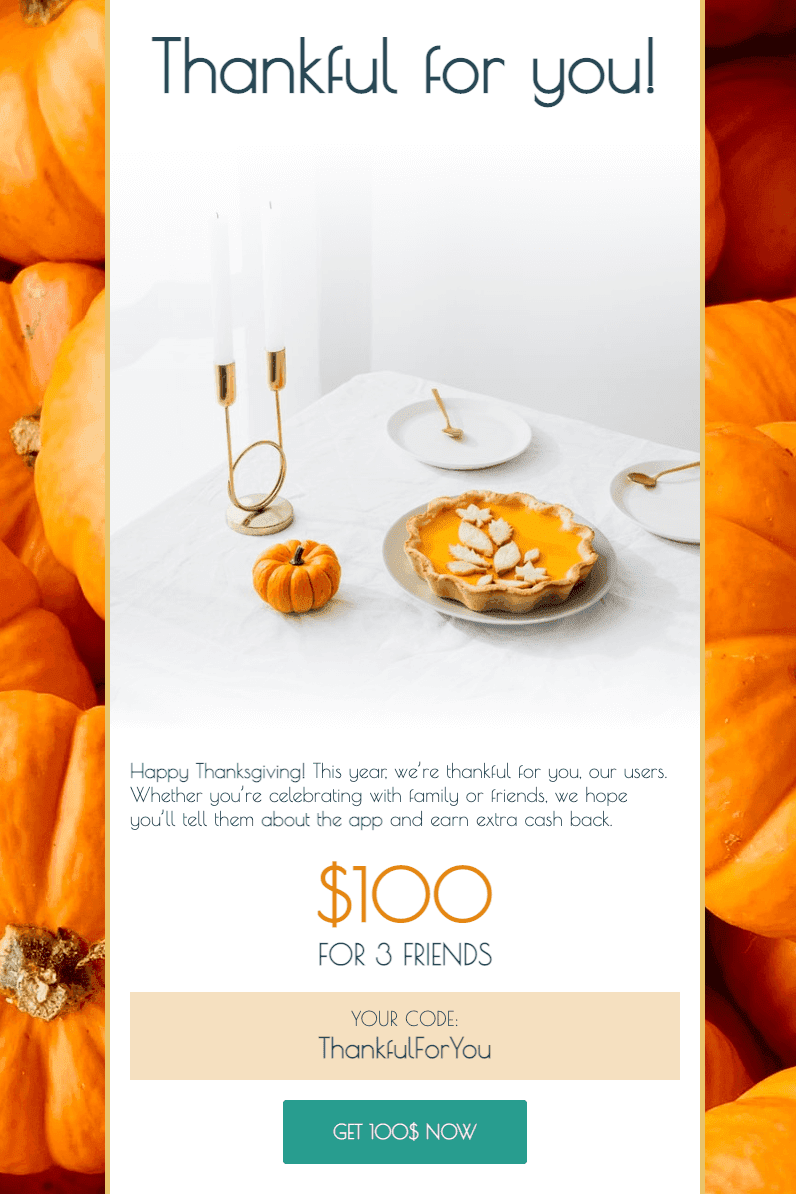 With this template, you can show gratitude to your customers
So, now you've got an eye for good Thanksgiving newsletter designs and subject lines. It's time to learn the best time for holiday email campaigns.
When you should send out your email
It's one of the most common questions for an email marketer. When preparing this article, we found an interesting study conducted by an American company DMD. 
It says that you reach the maximum audience's attention by sending an email two or three days before the holiday. It can be a series of emails. Then you should start weeks before the holiday. 
Wrapping up
Preparing a Thanksgiving email requires a lot of effort and knowledge. 
Wondering how to write a Thanksgiving email? Follow these simple rules:
We wish you successful campaigns and delighted recipients.
With Stripo, you will build effective Thanksgiving emails in no time!