Designing emails for newsletters is always a creative process in which you can use your imagination to its fullest so that recipients remember your emails and are waiting for them in their mailboxes. And you always have two approaches to creating your email templates: with modules or custom templates from scratch. So, which approach should you choose? What benefits does each approach bring, and what are their downsides? Our special blog post is dedicated to this topic.
What is modular email design?
Before getting into the pros and cons of each approach, it's worth remembering what a modular email design is. Imagine that your email is a set of Lego bricks. And why is Lego famous? You can create anything with ready-made parts. So it is with modular email design. You have a lot of prebuilt email elements on hand (headers, product cards, CTA buttons, and so on), and you can shuffle them around to build beautiful emails.
You can use these editable modules in numerous email marketing campaigns and combine them as you see fit. You can also develop a series of modules for a variety of purposes, such as newsletters, promotional and transactional emails, and surveys. Then, you must mix and match the modules you need to create the perfect template for your email campaign.
(How modules work)
We made a special blog post in which we discussed in detail what modules are and how to use them in Stripo.
Now that we've covered the basics, it's time to look at the main pros and cons of using modules as the main approach to building your emails.
Benefits
Brand consistency across all your emails
Brand consistency is far from last place, not only in email marketing but in any form of marketing in general. According to analysts, branding consistency can increase revenue by twenty percent, which shouldn't be neglected. Clients should immediately recognize your emails among hundreds of others in their inboxes and associate your company with the values and messages you want to promote and have identified in the design.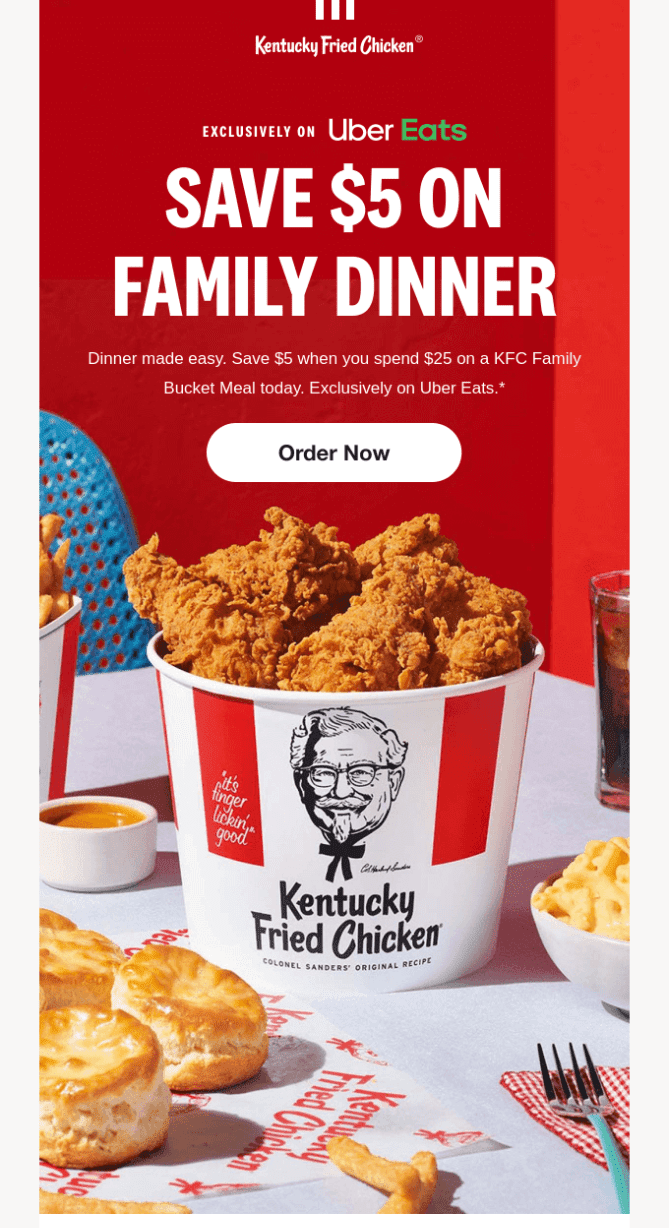 (Brand-consistent email from KFC)
Brand consistency in your modules can include your business logo, corporate fonts, colors, and more.
Saving time on the email design process
Time is everyone's most precious resource and should be directed to higher-priority things. For this reason, modules were created: to save you time that you can spend on higher-priority business tasks. Once you create your own module library with different modules for various purposes, you can include them in multiple email marketing campaigns without creating every email from scratch. You will already have prebuilt elements for any type of email in use, and creating one email will take thirty minutes instead of six hours. The saved time you can spend on drinking delicious coffee and analyzing your email campaigns.
Cost-effective email campaigns
Modules can be used as many times as you want in a variety of email campaigns, which frees you from the expense of buying custom template designs and coding new emails from scratch (as spending less time on building equals fewer expenses). This approach allows you to redirect the saved resources to other aspects of marketing and support for various email campaigns.
Easy design and content tweaks
Set the wrong webinar date? Or is one of the promotional products unexpectedly out of stock, and it needs to be removed from the email? Editing emails will no longer be associated with a headache since the modular system allows you to easily replace the content in modules and entire modules. Any mistakes can be corrected in minutes, and improvements can be made with the snap of a finger. And all this is done quickly, simply, and without problems.
In addition, there are synchronized modules that allow you to edit and update all email templates at the same time. When you need to make changes to a synchronized module in only one template, those changes are automatically applied to all other templates in which you have used this module. It also saves you an incredible amount of time and simplifies the template editing process.
Want to learn more about synchronized modules? Check out our dedicated blog post.
No technical skills needed
Modular email design is extremely easy to learn and doesn't require you to be an experienced programmer. In fact, you can be as far away from programming as possible and still create beautiful and functional emails using modules.
If you want to hire a coder to create a unique design for your emails, the programmer only has to do it once. After that, you can save all the developments as modules and use them in your email campaigns.
(Saving email parts as modules)
Downsides
Not all email editors support modules
There are quite a few solutions on the market at the moment that have the functionality of modules, which can make it difficult for you to use them as your main way to design emails. At the moment, modules are available in Chamaileon and Stripo. However, the modules in Stripo are more advanced. For example:
in addition to the standard functionality, the modules in Stripo are synchronized;

modules can be shared between different projects, which allows them to be used in various email campaigns in a couple of clicks; and

you can add AMP content to smart elements and other interactive content to your modules.
What is a custom email design?
So, we've figured out the modules. It's time to talk about custom email design. At its core, custom email design entails creating an email completely from scratch using only the basic blocks or coding emails. You see absolutely white holts; in your hands, there is only a brush and paints, and you can create anything you want.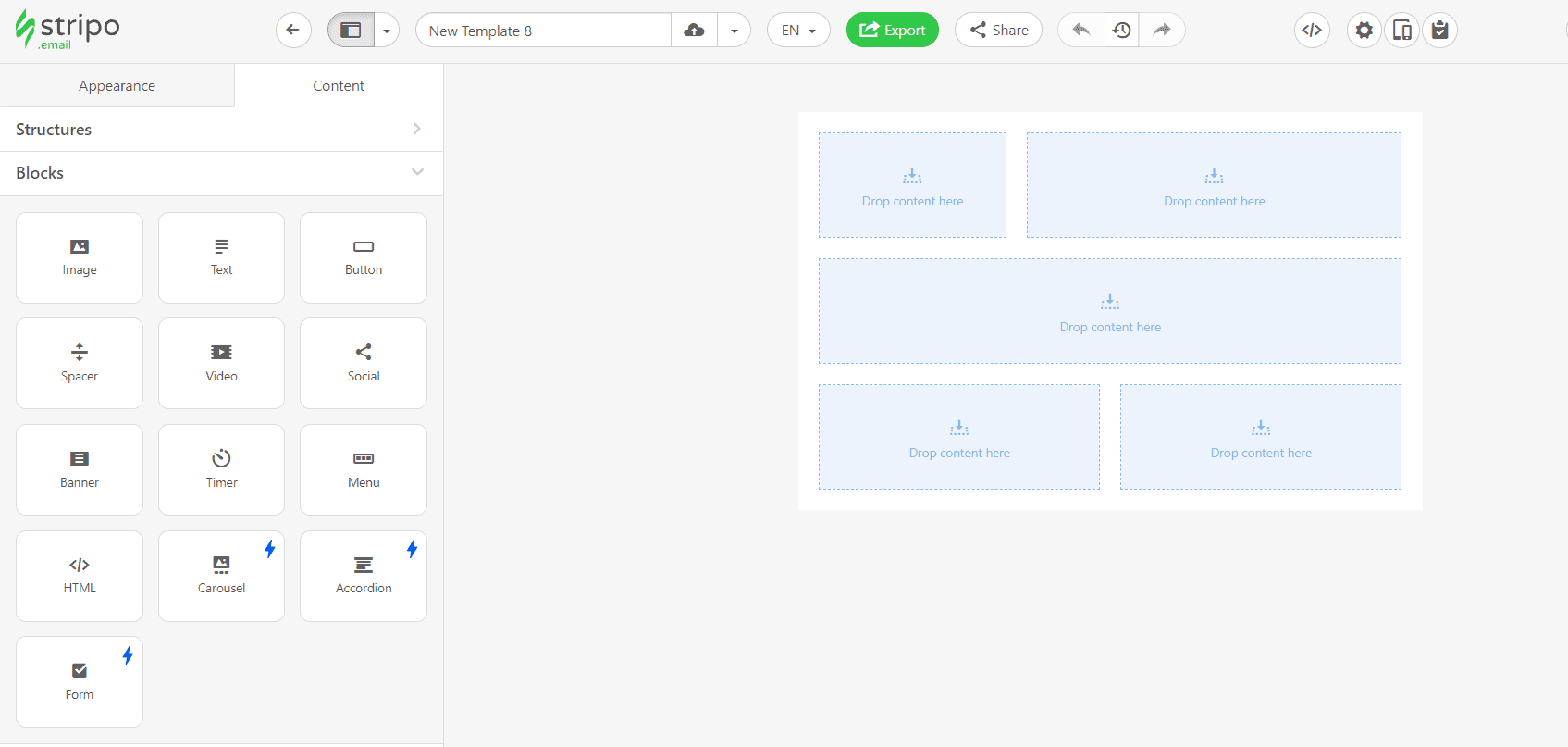 In marketing terms, you can design an email, starting from the basic layout and arriving at colors, fonts, texts, and so on. No templates, only complete creative freedom. You create email not only as a marketer but also as a designer and developer. Each of your emails is unique, and that's the point of custom email design.
Benefits
Full control over email design
No matter what anyone says, modules are still email element templates (which can be customized). However, no template can replace the full-fledged ability to create an email from scratch just the way you want. You and the designers create the email layout and draw the final look. You create a unique design for your email, after which the developers start coding all the necessary functionality, focusing only on your needs in the current email campaign.
Endless creation possibilities
Custom email design allows you to implement any ideas that can benefit the business in general or any specific email campaign. Advanced interactive elements, dynamic content, simple AMP games, and much more are at your disposal and can only be created manually and from scratch using custom email design. Only your imagination limits the design of your email.
(AMP-powered game in an email)
All email editors support it
Any popular email editor on the market will allow you to create a custom-designed email from scratch. Some advanced features may vary, such as AMP, and others (their absence or presence). However, you won't have any trouble finding a tool for creating emails with a custom design.
Downsides
Requires technical skills or specialists on your team
While many solutions on the market offer intuitive drag-and-drop editors for custom email design, you still need technical knowledge to implement more complex design elements (such as dropdowns, rollovers, carousels, and AMP games). If you're not tech-savvy, you need tech people on your team to help you bring your email design to life.
Time-consuming and expensive
Creating each email from scratch takes a lot of time and resources. Each time you need to think over the design, draw a layout, design it in the editor, and so on. In addition, the more complex the features you want to add to the email, the longer the creation process will take.
Final comparison
In order for you to make the right choice, we have created a table that compares both ways to create emails: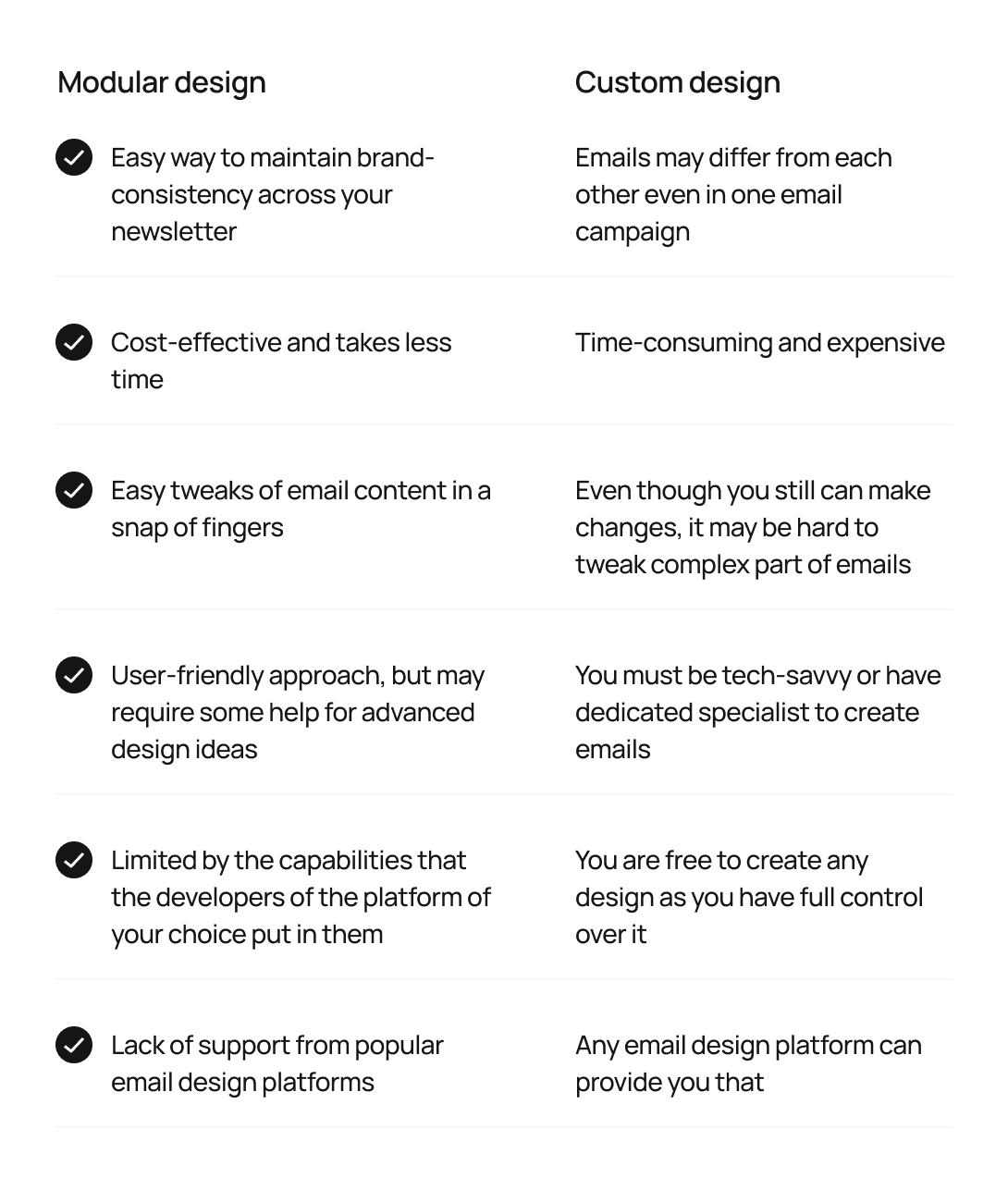 How Stripo can help you
Despite such significant differences between these approaches in creating emails, there is a definite plus in the fact that you can use both of these methods in Stripo. Advanced modules and the ability to create complex custom functionality and edit the email code are at your disposal.
We always strive to make it as easy and simple as possible for our users to create emails in Stripo, so we've created various auxiliary and educational materials. These materials include a full video about modules in which we lay out everything you need to know from start to finish (how to use modules, save them, work with synchronized modules, and so on).
However, if you're interested in a custom email creation approach, we're also happy to present the Stripo Academy, which will take you from the basics to the advanced elements of creating emails with Stripo.
Wrapping Up
Creating emails is a responsible process, as their design is one of the keys to a successful email campaign. You are free to choose any method of creating emails that is convenient for you. We've looked at modular and custom design, and, as you can see, both approaches are quite different. In our humble opinion, modular design is great if you want to create a lot of consistent emails quickly, while the custom design is great for more creative email campaigns.
Create your own beautiful emails with Stripo