Super Bowl is one of the most anticipated sports events of the year. All Americans look forward to it, but advertisers barely send such emails since Super Bowl commercials cover a lot. So, now is the perfect time to send Super Bowl emails, as you still have time to take the niche and surprise your subscribers!
Some facts about Super Bowl
Before we dive into ideas for a powerful Super Bowl email campaign, we want to share some facts about this game:
this year, the game will take place on February 12th at State Farm Stadium in Glendale, Arizona;

Rihanna will headline the halftime show at Super Bowl 2023;

NBC will broadcast this event;

Super Bowl 2022 was watched by 99.18 million people in the US.
This means we still have some time, yet we need to hurry with our emails.
Super Bowl email marketing campaign ideas
The content of the email depends on the services your company provides.
Super Bowl email marketing ideas for sports bars and restaurants
Given that this event is strongly associated with food, beer, and competition, we believe these email marketing ideas for Super Bowl will generate some profit and let your emails go viral.
1. Warm up your audience by highlighting some bright moments
You might want to remind your customers about the game way before the event itself. This makes the event even more anticipated.
Highlight some memorable moments from the previous season or share some news about football players.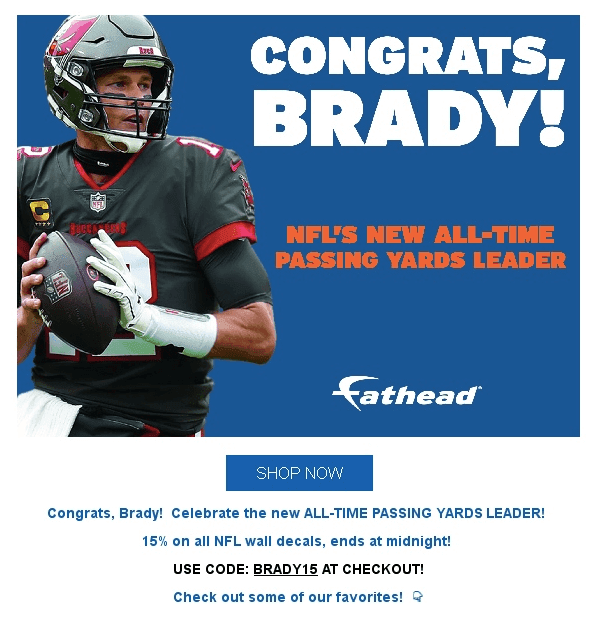 (Source: Email from Fathead)
Discounts are optional in these emails.
2. Run quizzes
Offer discounts only to the "Winners". 
Run some small competitions, games, and quizzes, and ask questions like "How many touchdowns did this player score for his team?", "What time did the best player of a season score a final touchdown?", or "Solve this puzzle and get 10% off."
You can make these quizzes interactive so that your customers answer directly in the email.
Use this template to add gamification to your emails with no coding skills
3. Cut prices big
The final game of the season is a big event. And just like with every holiday, customers expect you to give generous discounts.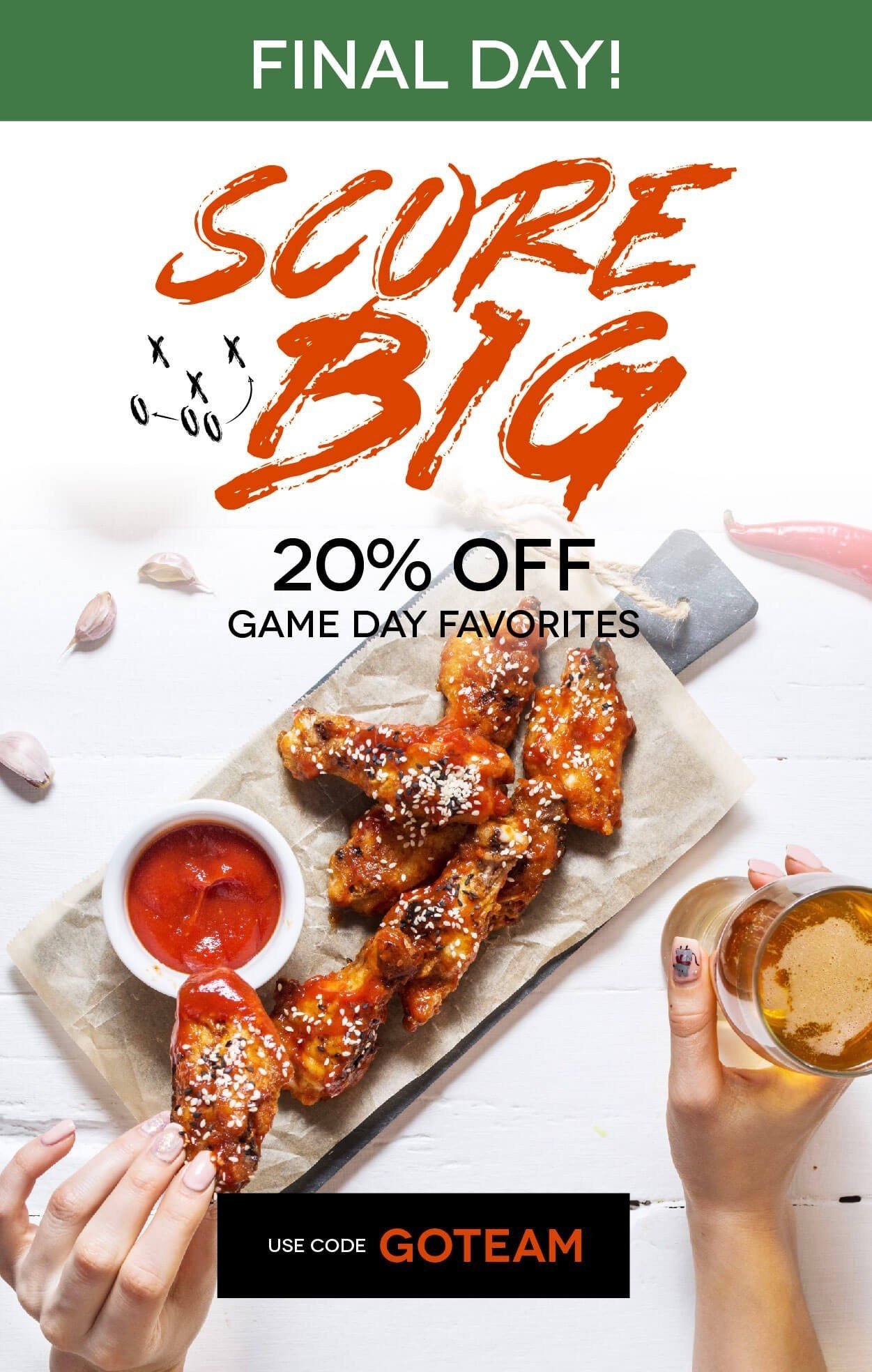 (Source: Email from D'Artagnan)
4. Let your audience pre-order stuff 
It is important to mention that a customer can make a pre-order with delivery on day X.
For those who have already placed an order, you may send a follow-up email to let them know that everything is okay with their order and it will be delivered on time.
5. Send a friendly yet final reminder email
Reach out to those who haven't placed an order yet. Tell them they still have some time left for an order to get delivered or takeaway.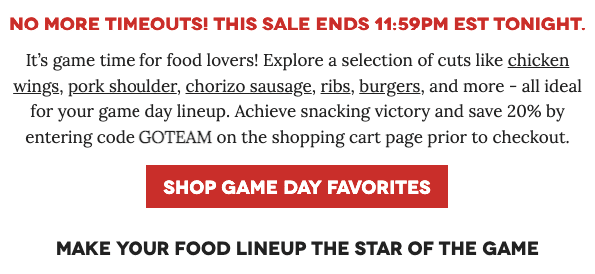 (Source: Email from D'Artagnan)
6. Promote new items on your menu
Even though we all have our favorite food and drinks, we don't mind giving something new a try. Be sure to mention this in your Super Bowl newsletters.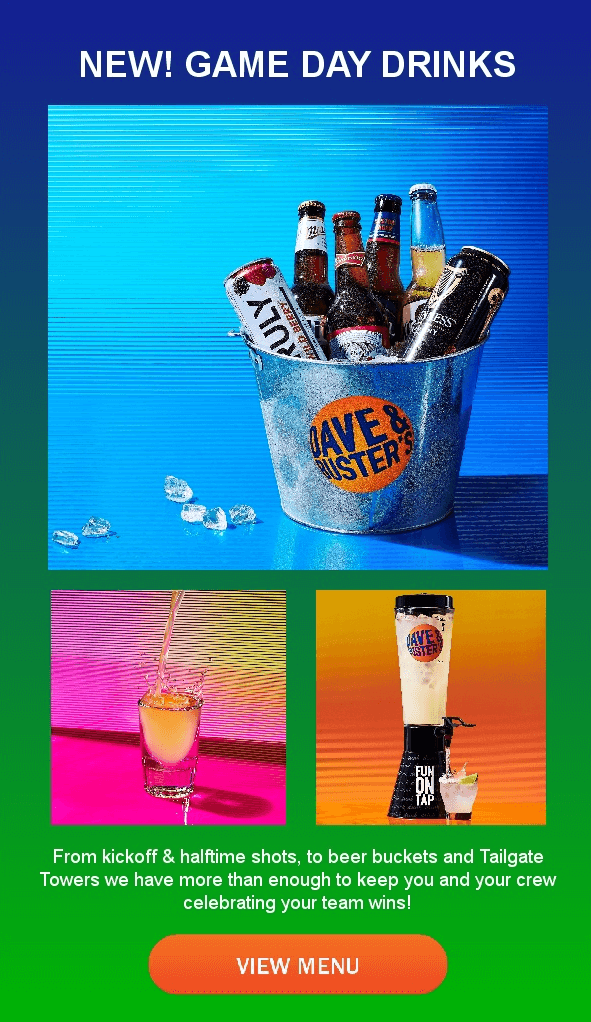 (Source: Email-competitors)
7. Share the NFL schedule
If you run a sports bar and have the right to broadcast the games, be sure to add the schedule to your emails so that guests know when exactly they need to come.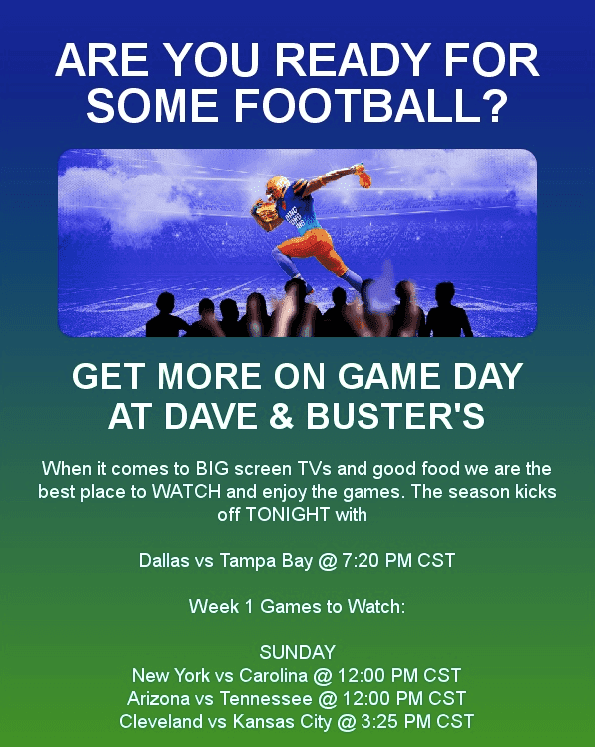 (Source: Email from D & B Restaurants)
Super Bowl email marketing ideas for football clubs' marketing teams
1. Highlight the most memorable events of a previous winning game
Communicating with your team's fans is important. You need to constantly reach out to them.
And highlighting the moments your team is proud of is a good reason to send an email to your fans.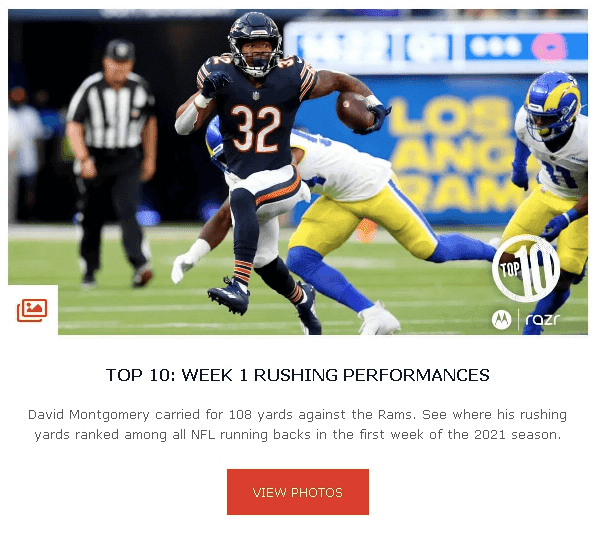 (Source: Email-competitors)
2. Giveaway tickets
Apart from selling tickets, you might want to let the most staunch fans win them.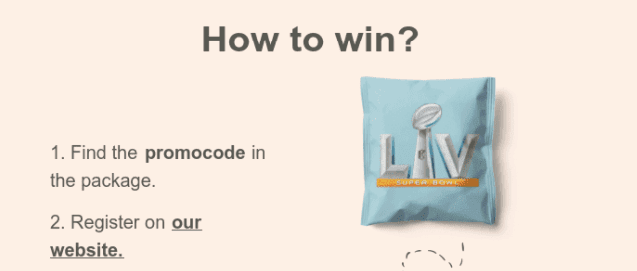 (Source: Stripo template)
3. Sell merch 
Remind your subscribers they can support their favorite team by wearing the team's merch.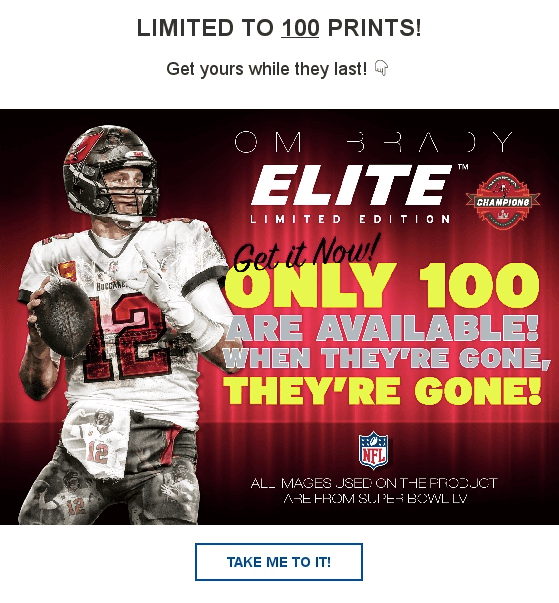 (Source: Email from Fathead)
4. Remind your team's fans to check subscriptions for NBC 
Remind your subscribers to check their subscriptions for a sports channel. 
Let them know that if they don't have a recurring subscription, they can get a 1-game subscription. Be sure to check first if this year such an option is still available.
5. Share a list of sports bars that have the rights to play/broadcast the game
It would be really nice of you if you shared a list of the sports bars and channels that have the rights to play the Super Bowl 2023.
Be sure to mention if this will be live or a recording of the game.
6. Praise your best fans
Thousands of people have been supporting your team all this time. Maybe, after or before the Super Bowl game, it's time for you to praise them. At least, the most determined ones. But how do you choose one? Well, asking them tricky questions about the previous game season is a good idea.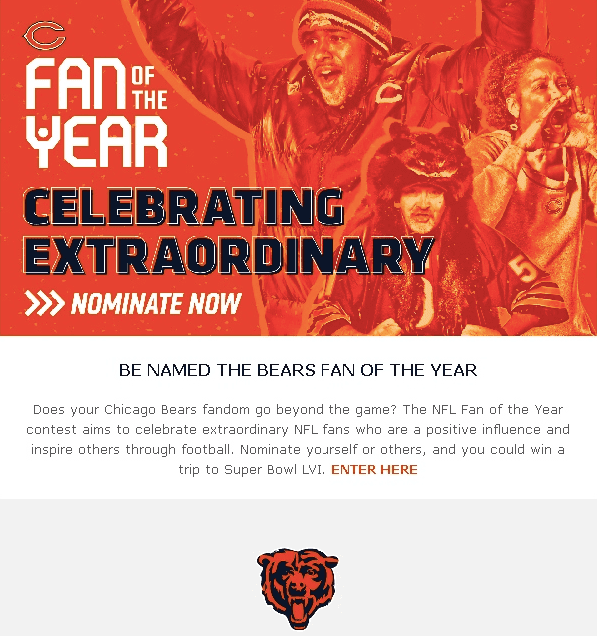 (Source: Email from Chicago Bears)
The Super Bowl email subject line examples
The email subject line is an essential part of a Super Bowl email marketing process. You need to ensure your subscribers will open your email and perform the action you want them to. 
We're gonna share the best Super Bowl email subject lines to ignite your inspiration:
Final Day! Score BIG for Super Bowl — D'Artagnan.

The Super Bowl is Better with M 🏈 — M&M's.

8 Biggest Super Bowl Trends — Adweek.

Super Bowl LV Shows the 5G World That Wasn't — PC Magazine.

Cheer for Team Art this Super Bowl weekend! — Dallas Museum of Art.

20 Best Super Bowl Recipes — Two Peas & Their Pod.

GET READY FOR SUPER BOWL LVI! 🏈🎉 — Fathead.

Dr. Dre, Snoop Dogg, Eminem, Mary J Blige & Kendrick Lamar Set for Pepsi Super Bowl LVI Halftime Show — Billboard.

Bears Direct: Building on Positives — Chicago Bears.

Score! Hurry in, your $30 Savings is here — Purity Products.

Football is back 🏈 WATCH with us TONIGHT! — D & B Restaurants.

It's our FAVORITE day of the week 😁 — D & B Restaurants.

🏈 IT'S HERE! LIMITED EDITION SUPER BOWL LV TOM BRADY ELITE 🏈 — Fathead.

Last chance to score 10% off NFL 🏈 — Fathead.

Superbowl 2022 Cheeseboard 🏈 — Fromages.com.
Wrapping up
Super Bowl, which is a huge event for all Americans, is coming. Create amazing emails and make it an even better day for your customers and fans by taking care of their provision, TV subscription, etc.
Build high-quality Super Bowl emails way faster with our prebuilt email templates