An email signature is a beautiful element that looks great in emails. However, in addition to this, it is an excellent promotion tool that can promote both a specific person and entire companies. For example, 82% of digital marketers use mail signatures for brand awareness campaigns.
If you are developing your business and providing services, you must create your own email signature. Various email signature software will help you with this tricky task. In this article, we will look at the best email signature generators that are worth your attention.
Price: Free
ThriveDesk Email Signature is an easy-to-learn and minimalistic free email signature generator. Its simple and minimalistic design will allow you to create customized signatures for your email in less than half a minute. A convenient feature of this email signature generator is that all changes made to the email signature are displayed in real-time (both when creating your own signature and when using ready-made templates).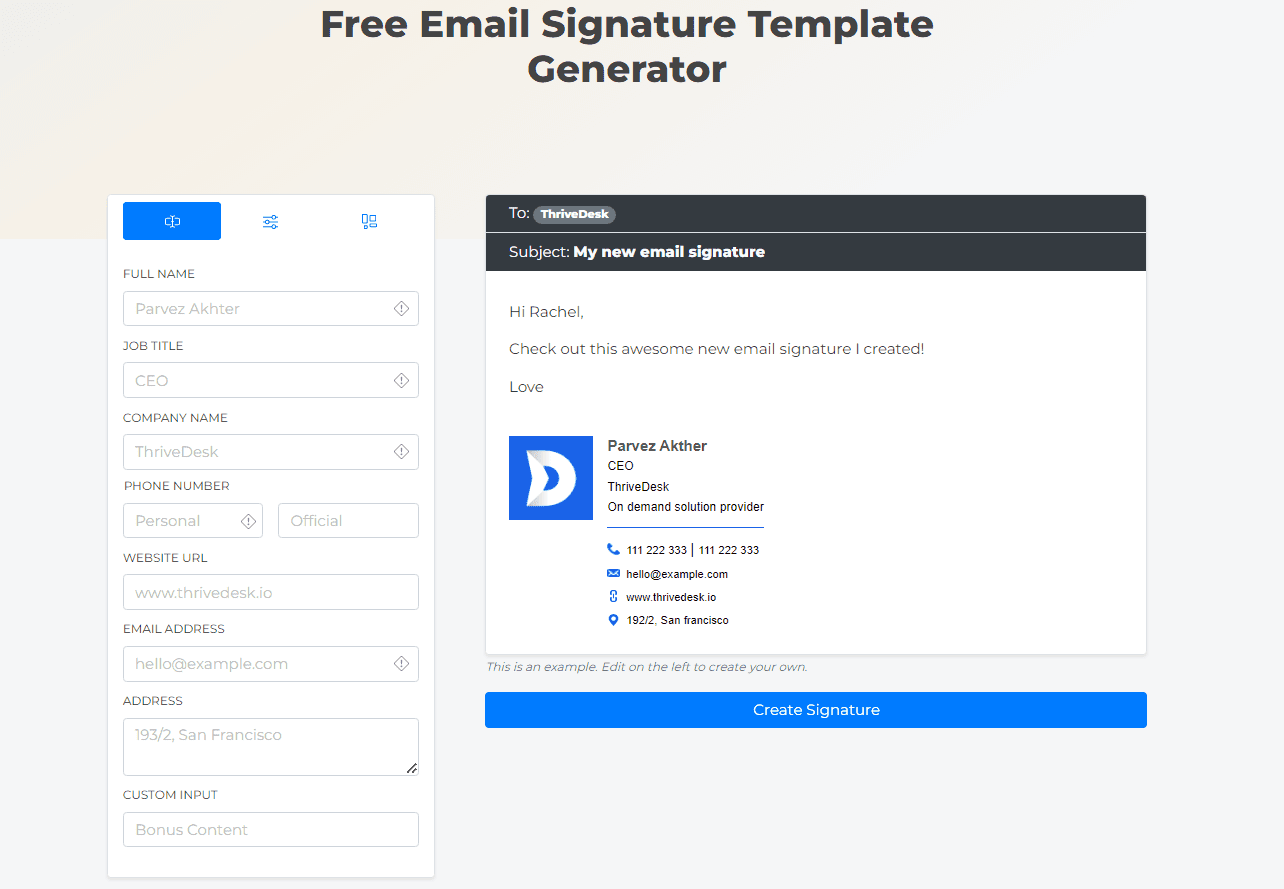 All you need is to fill out the form with personal information (name, address, contact details, image, email address, designations, website address, and so on). Another undoubted advantage is that the generated email signature is easy to implement into email clients of your choice, and all algorithms do not require technical knowledge.
Distinctive features
Price: Free
Stripo never stands still and constantly adds new features to make life easier for marketers when creating emails. The company has created a signature generator that you can already try for free.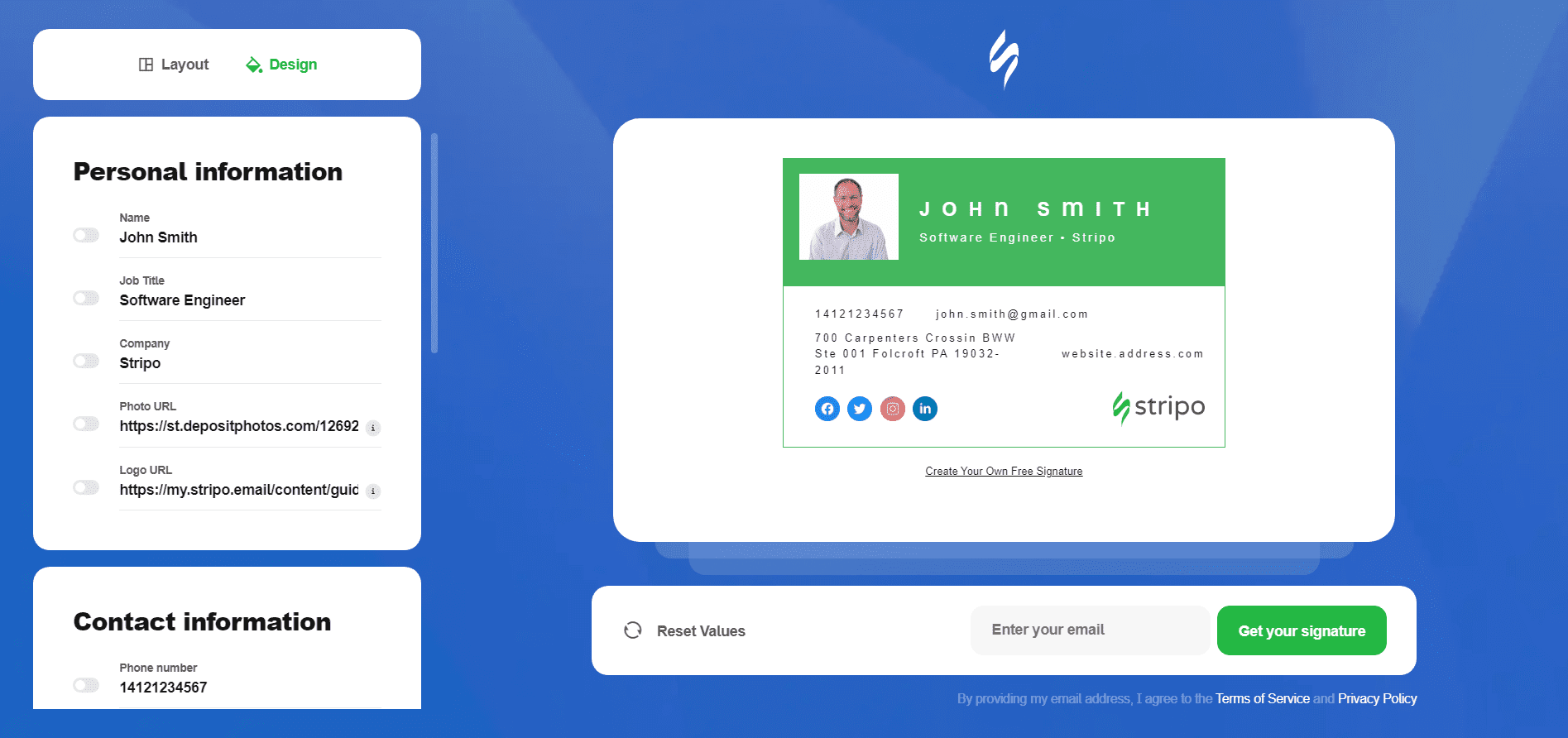 In this signature generator, you will find everything you need to create the one that will suit your email design. Convenient templates will help you set the main look of your signature. Detailed content settings will help fill the signature with the necessary information. And to spice things up, you can change the design of social media buttons to match your vision of the email signature. And it's all wrapped up in an intuitive one-page interface that allows you to generate an email signature in three easy steps.
Distinctive features
easy-to-use editor;

customizable social media icons;

four signature templates (more with further updates);

changeable theme colors and fonts.
Price: Freemium
When it comes to generating email signatures, Gimmio is a tool that comes to mind first. This email signature generator has an extensive selection of ready-made email signature templates (more than 40 to be exact). However, in addition to using templates, you can create your own unique email signature thanks to Gimmio's flexible email signature generator tools.

In your arsenal, there will be more than 2000 options for various icons, 44 fonts, and numerous tools for setting spacing and borders for any field. In addition, the free version of this email signature maker directly integrates with popular email clients to quickly export your unique email signature to email service provider.
Distinctive features
Price: Freemium
Next on our list of popular free email signature generators is WiseStamp. This tool is a great email signature maker. In addition to a convenient email signature editor it provides a centralized system for updating them. In simple terms, it allows brands to control, modify and update personalized signatures to ensure employee uniformity. This feature is highly convenient when paired with the ability to use WiseStamp for more than 1000 employees at the same time.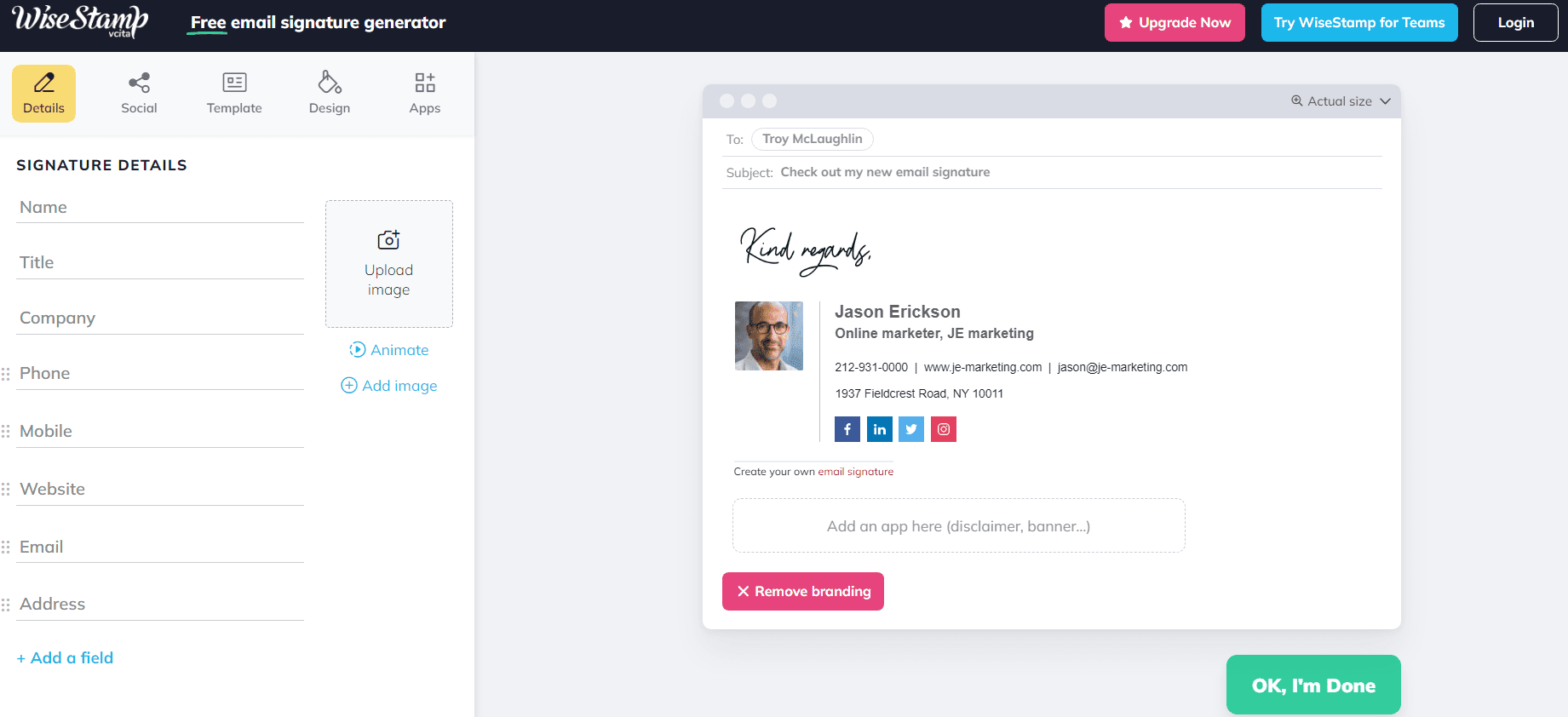 The free version of this email signature creator allows you to craft highly personalized branded email signatures thanks to flexible editor tools and the ability to attach social media profile icons and entire Instagram photos. And all these unique features are wrapped in a convenient integration with major email clients like Gmail, Outlook, Apple Mail, and so on.
Distinctive features
Price: Free 
It would seem how many trump cards and useful features Hubspot can have, and here's another one. Yes, Hubspot has its email signature generator, and it's really good. Wrapped in an intuitive design, it provides a simple algorithm for generating email signature via a form. It is enough for the user to fill in the required information such as name, address, contact details, image, email address, designations, website address, and so on. In addition, it is possible to add social media links such as Facebook, LinkedIn, and Instagram to your email signature.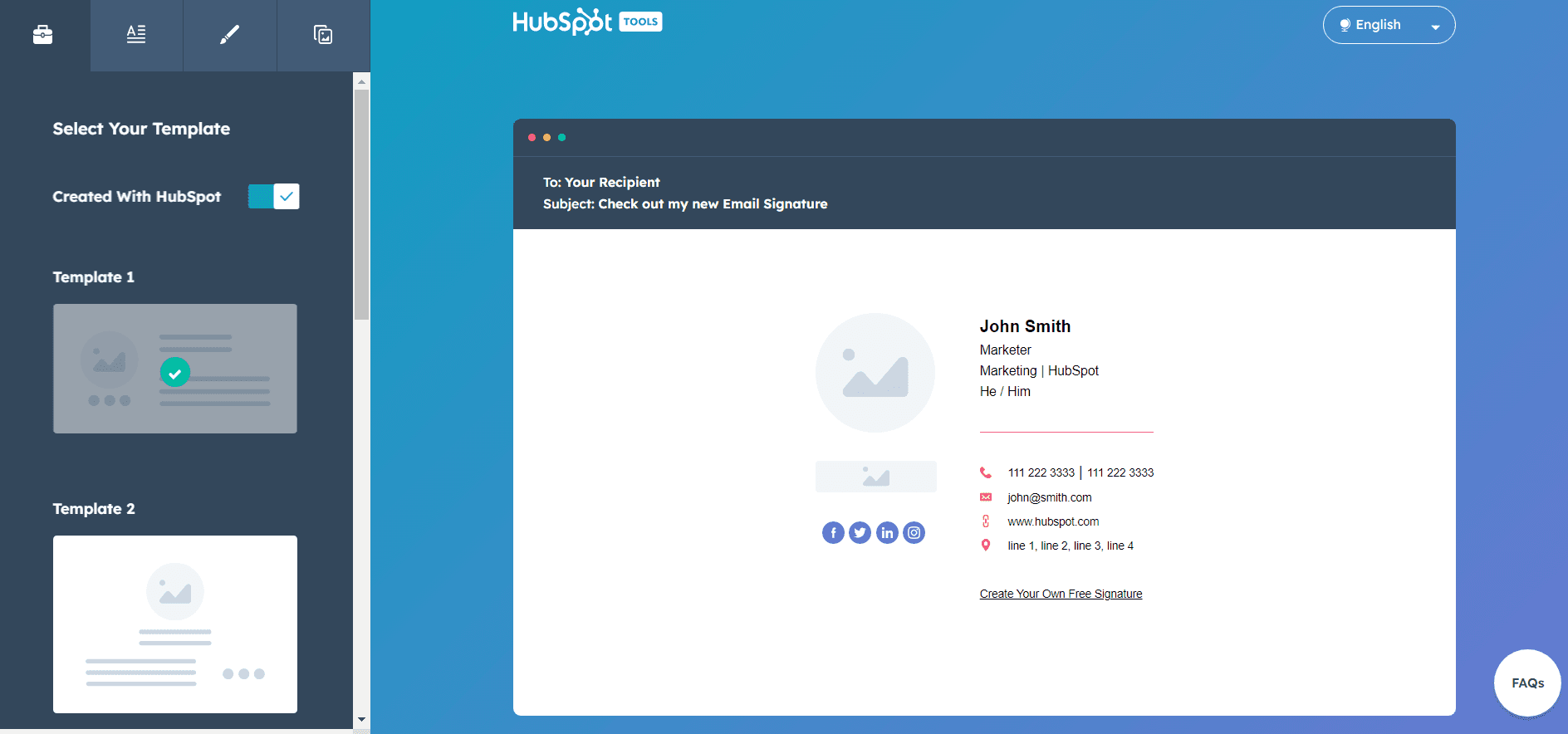 Users have access to basic settings to create customized email signatures such as fonts, colors, and themes, as well as the ability to add images. Regarding integrations, Hubspot has detailed manuals for every popular email client, but all email signature integration methods are relatively simple.
Distinctive features
Price: Freemium
Signature.email is a decent free email signature generation tool that suits small business owners and huge email marketing and web design agencies. Flexible design options will help you create unique email signatures for clients and employees. The user can customize everything in the email signature template.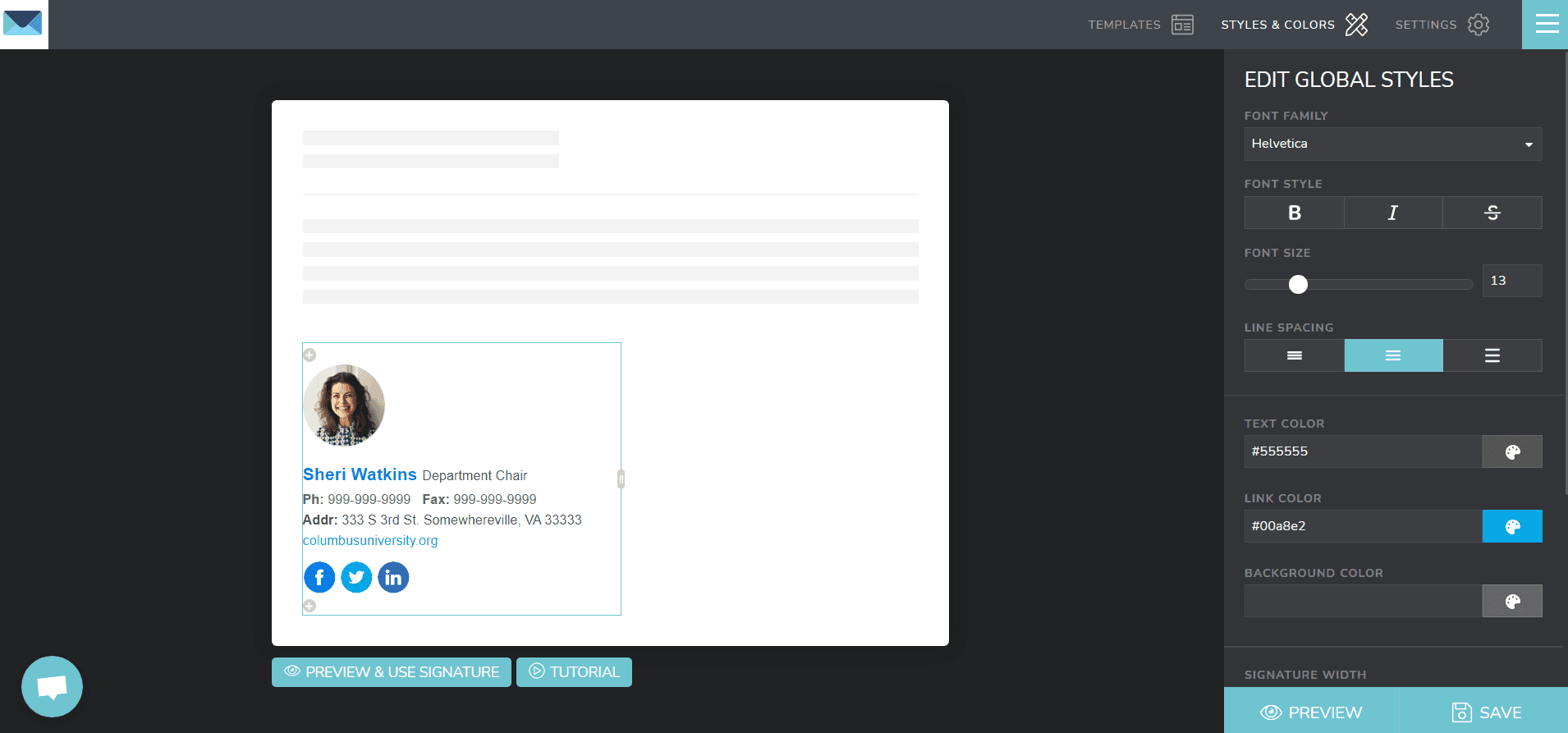 In addition, it is possible to add social media icons, images, banners, and many other important personalization elements to create email signatures with a unique touch. And all this without restrictions on the adding various fields, which unleashes the hands of designers. Signature.email has full integration with popular email clients like Gmail, Apple Mail, and Outlook, allowing you to send created signature in a couple of clicks.
Distinctive features
multiple design templates;

ultimate customizability.

great for both solo and teams.
Price: Freemium
MySignature is one of the newest best email signature generators on the market, allowing you to generate email signatures. With full compatibility with Gmail, Outlook, Apple Mail, Thunderbird, and Office 365, you can send custom email signatures in a few clicks. In addition, MySignature has a wide range of tools for creating unique signatures, ranging from company details to logos, custom banners, and styles with five different tabs.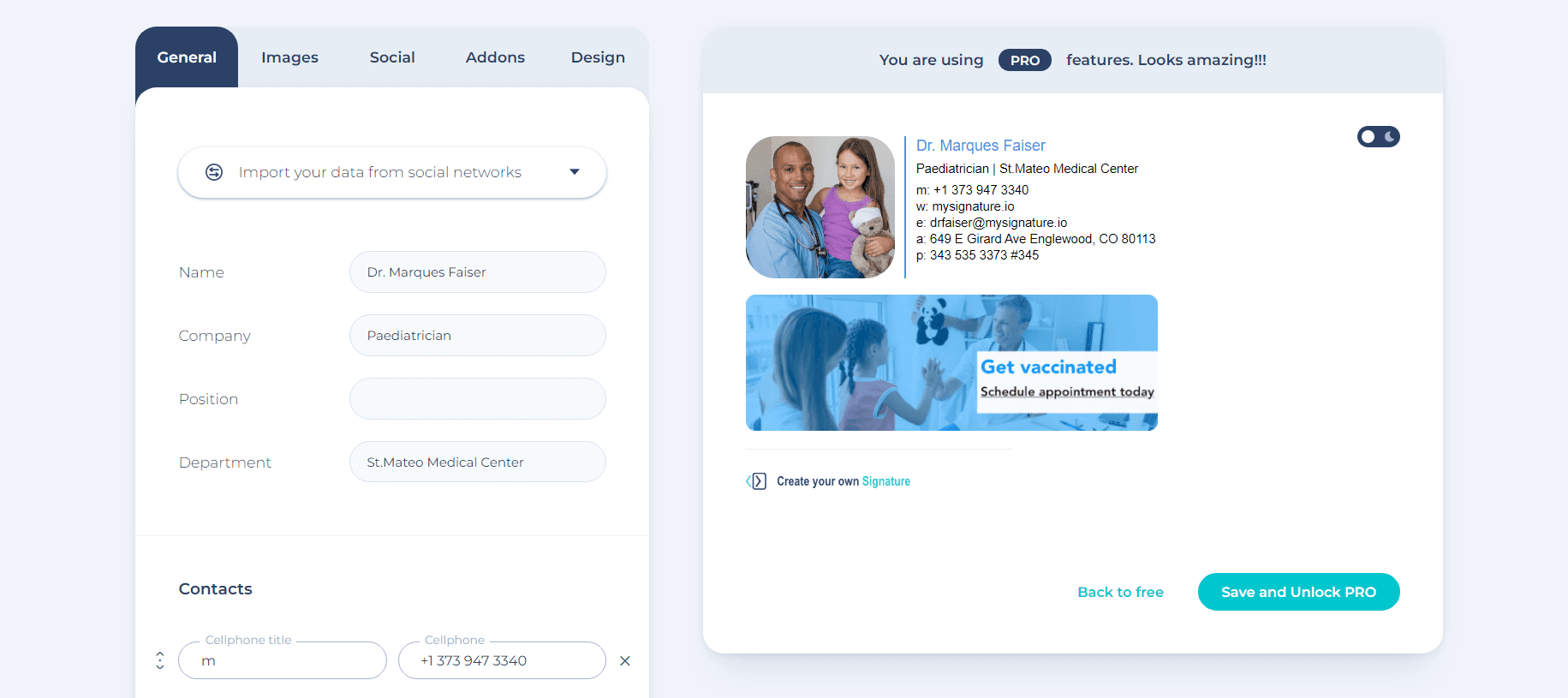 Besides, you can choose pre-made email signature designs, customize them to suit your needs, and create a free signature for your newsletter. In a relatively short period, MySignature has won the love of freelancers and marketers of companies worldwide.
Distinctive features
Price: Paid
NewOldStamp is one of the most popular email signature generators with a wide range of options for customizing your email signatures. At the same time, NewOldStamp is extremely easy to use and will help you generate a beautiful email signature in just 2 minutes.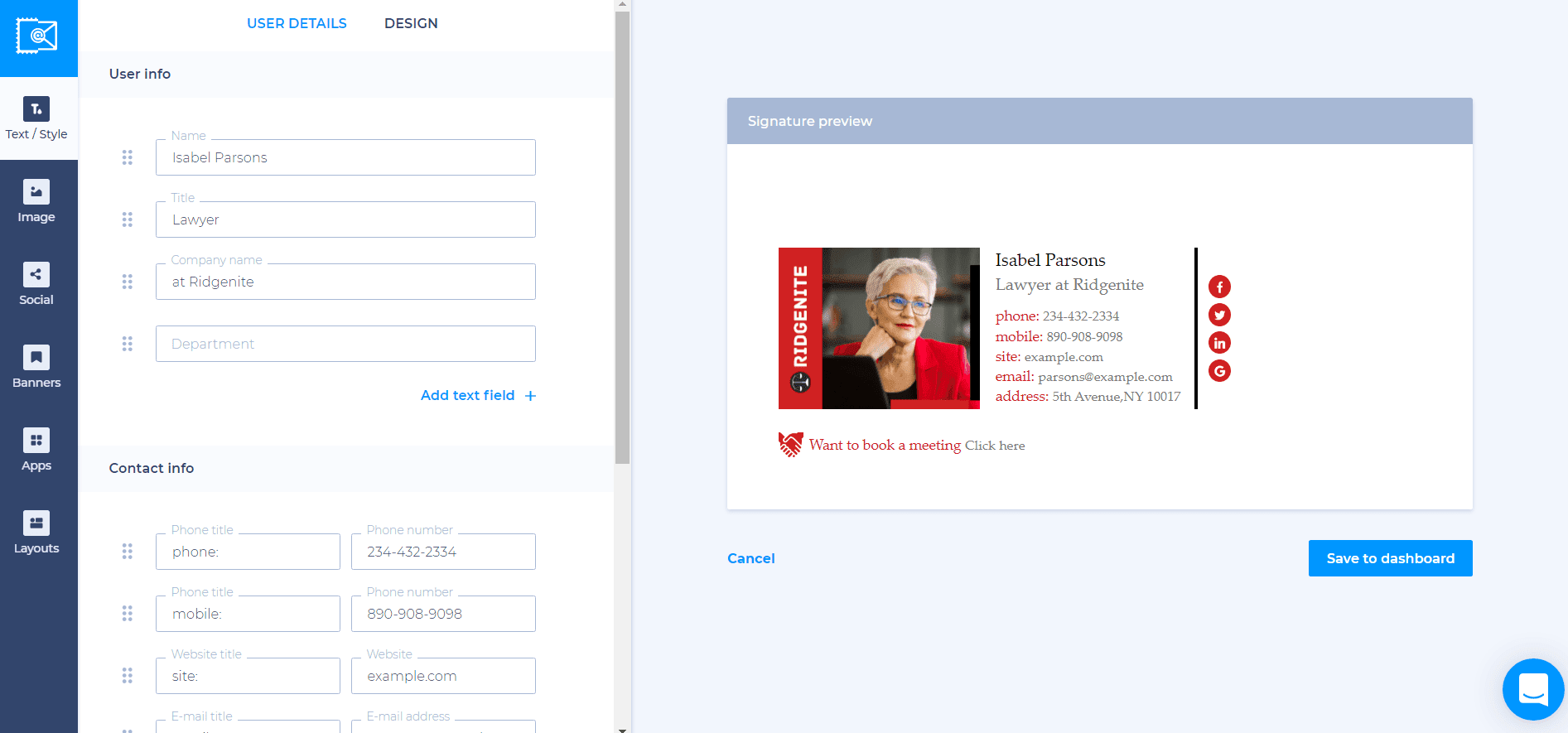 This email signature generator is fully compatible with popular email clients. It allows you to integrate apps and social media icons into your email signature, including social media links and full-length call-to-action banners. And all this is wrapped into an extensive list of email clients to deploy your new signature in one click.
Distinctive features
automatic email signature updates;

analytics for sent email signatures;

one-page email signature editor.
Price: Freemium
Si.gnatu.re is a highly easy-to-use free email signature generator with excellent design and customization options. Si.gnatu.re toolkit allows you to create email signatures using different types of fonts with different sizes, upload company logos, and social media icons, and customize the email signature width, background, text, and more. In addition, the service provides an easy way to add your selfies to your free signature.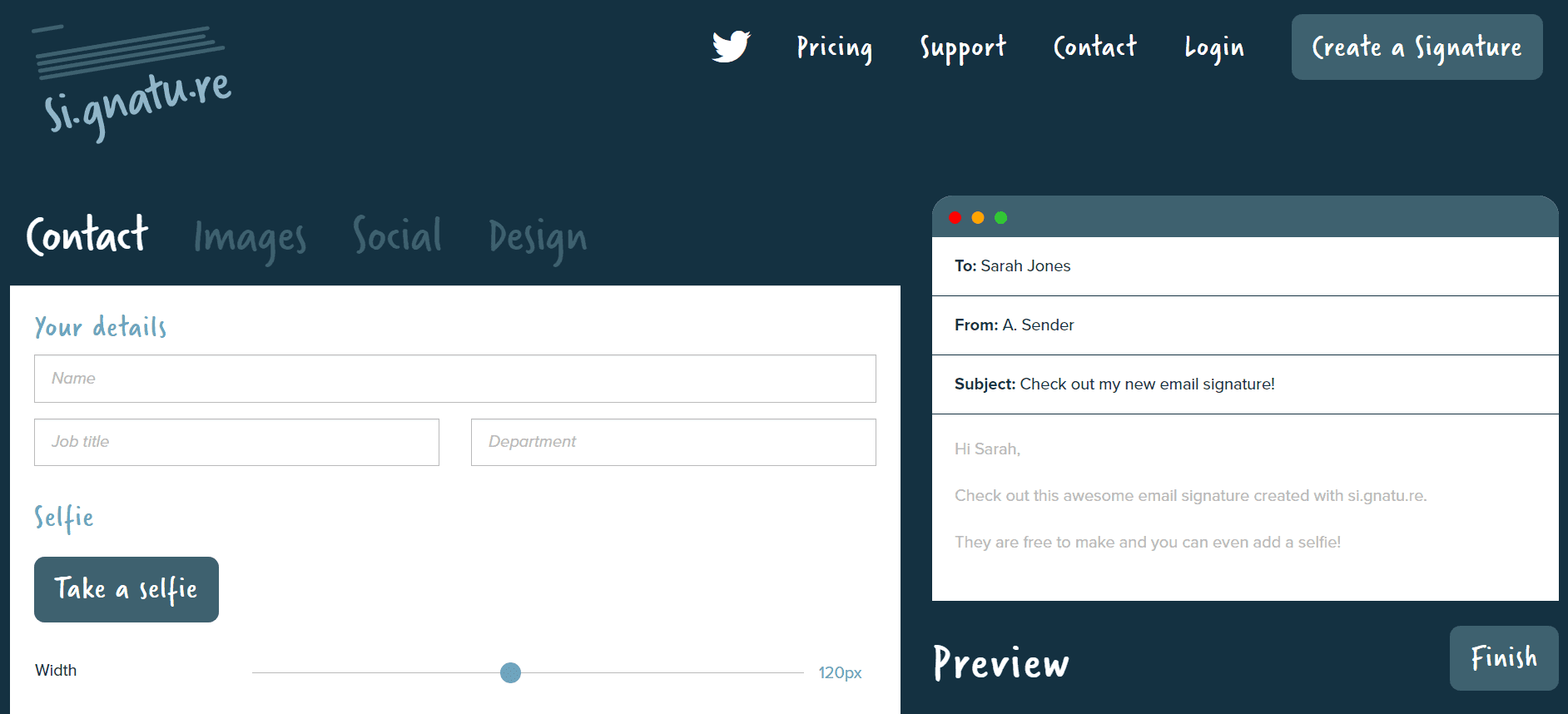 Si.gnatu.re has a handy one-click Gmail integration, but it's only available on a monthly subscription service, wich has more advanced features as well. If you need to integrate your email signature into other email clients, you must use one of the company's many tutorials.
Distinctive features
flexible email signature customization;

wide variety of fonts, social media icons, and other elements to choose from;

easy-to-use, unlike other email signature generators.
Price: Freemium
Last on our list is Exclaimer, which is an advanced customized signature creation and management platform. In addition to the intuitive drag-and-drop email signature editor, with the essential options, you can easily add disclaimers and social media icons or include a promotional banner with a call to action to your mail signatures. In addition, the platform allows you to track detailed analytics for your new signature, such as clicks, impressions, ROI, and much more.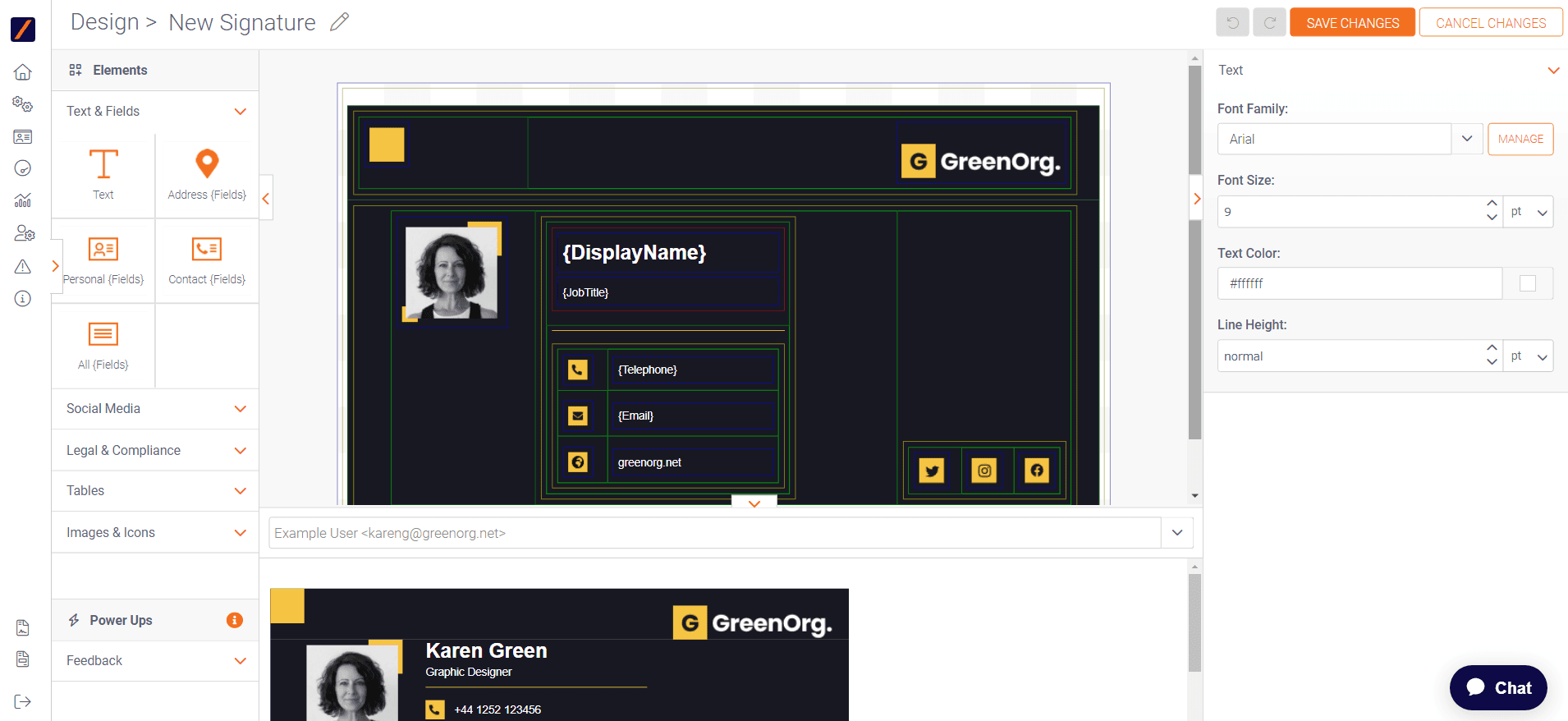 The platform is integrated with major email clients such as Gmail and Outlook, allowing you to transfer your email signatures to emails in a few easy steps. If you need to export to other email clients, you will have to contact support for more detailed instructions.
Distinctive features
create surveys by dragging feedback elements to your email signatures;

professional email signature templates library;

option for adding Microsoft Teams meetings.
Tips for creating exceptional email signatures
So, we talked about the top ten email signature generators. However, to successfully apply them, you should know some useful tips for creating email signatures.
You don't need to write an entire poem in your email signature. It is enough to write 3-4 lines of text where you will briefly and politely complete your email and share contact information, job title, company data, and so on.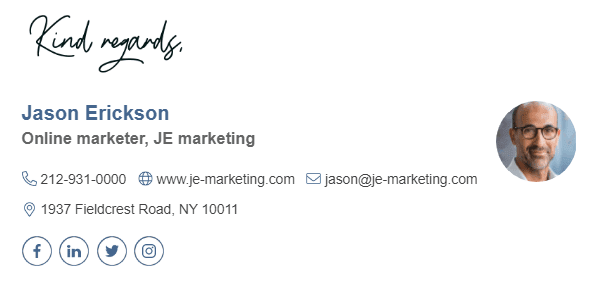 (Source: WiseStamp)
As much as you would like to add all possible links to social media accounts and other ways of communication, choose the highest priority of them and which will most likely be convenient for the recipient of the email.

(Source: Gimmio)
Your email signature will look much more authoritative if you include your company logo. If you are promoting yourself and your personal services, then you simply cannot do without your own photo in the email signature. This approach will significantly help you to create personalized email signatures.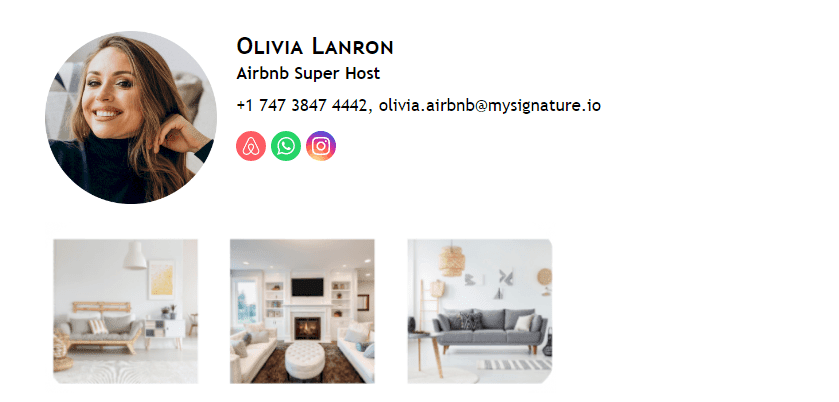 (Source: MySignature)



Optimize your email signature for mobile screens
Adapting content to mobile screens is extremely important, as today, more than 85% of users open emails from mobile devices. So you should test your emails several times on a mobile device to ensure that the main content and the email signature look great on them.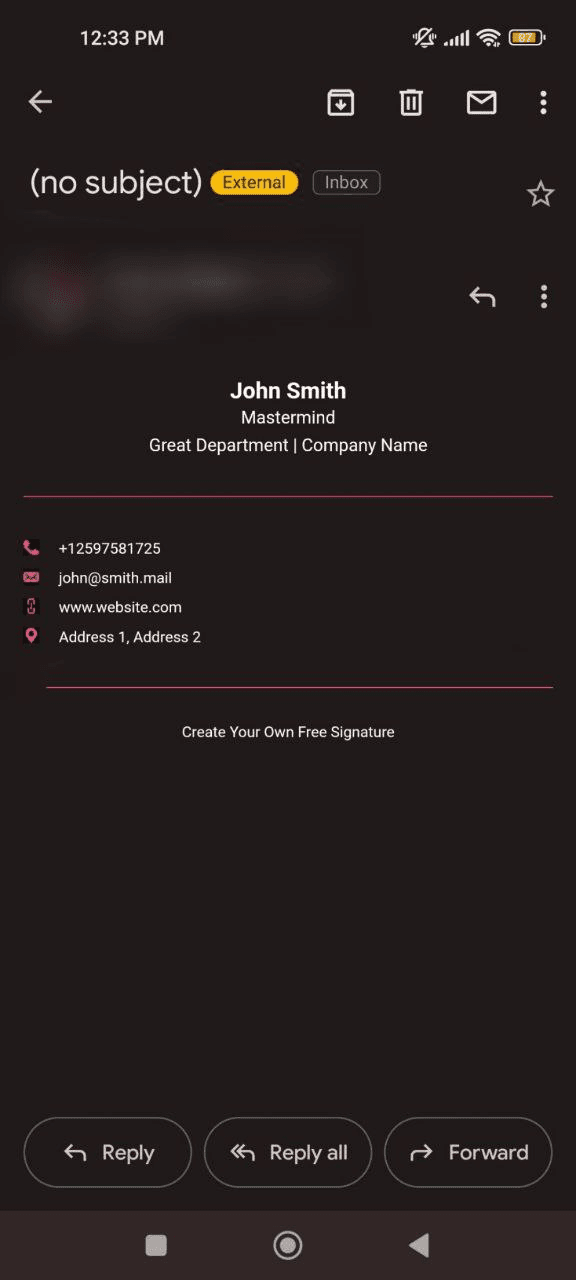 (Source: Email signature from Hubspot)
Links in email signatures are one of the important elements, as they allow you to redirect the recipient to where you need to go. However, they will be of little use if you do not know if anyone is clicking on them at all. So adding trackable links with UTM tags when you create an email signature is essential if you want to know and improve your email signature performance. You can use special tools like Campaign URL Builder to create these links for your email signature.
(Source: Campaign URL Builder from Google Analytics)



Don't forget to add an international prefix to your phone number
If you work with clients worldwide, then your regular phone number will not help them reach you. So always include an international prefix to your professional-looking signature depending on your country (or the country your support department is located).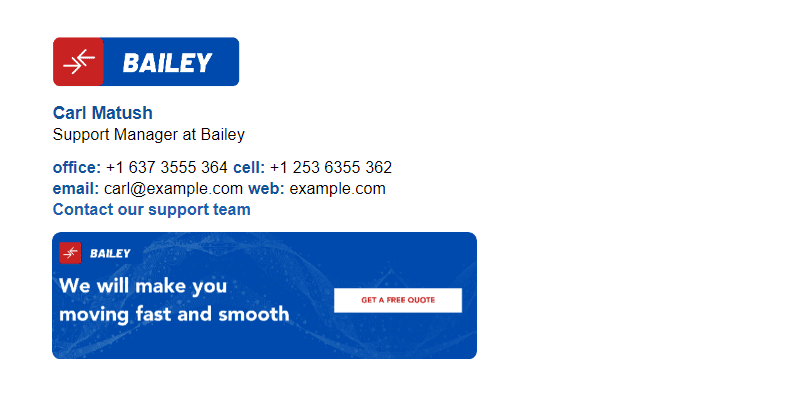 (Source: NewOldStamp)
Wrapping up
Email signatures are an important part of emails since they allow marketers to get out of the conversation correctly, which is a subtle email marketing art. In addition, such an engaging signature provides a small field for promoting brand message, social networks, websites, services, or a particular person, making emails more personalized and alive.
We've gathered 10 best email signature creators to help you craft the best signatures for your emails. We hope our email signature rescue article will come in handy for you. However, we can help you with valuable information and email signature design.
Create your own private template with an email signature using Stripo